Injection Molding and Tooling
Service Detail from Keytronic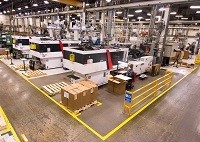 Keytronic injection presses mold parts in many different materials and colors. All parts are consistent in appearance, color and performance, guaranteed to produce superior quality and repeatability.
Molding Machines - Single shot, Multi-material, Liquid injection, Robotics, Electric and Hydraulic
Blow Molding - Standard Intermittent EBM (Extrusion Blow Molding), Auto Material Handling, Regrind Capability, Secondary Operations: Routing, Flaming & Trimming, Materials: HDPE, PE
Process Monitoring Systems - Real time process monitoring systems gives us complete control throughout the manufacturing process.
First Article Inspection Lab - On-site, fully equipped, Critical dimensions inspected by QA every 2 hours
Tool Maintenance And Repair - Spokane or China based tool build, On-site tool maintenance and modification in Mexico, Spokane or El Paso
Central Cooling System - Closed loop process cooling water systems with up to 400 tons of cooling capacity, Closed loop chiller system with up to 210 total tons of chilling capacity, Automatic water management system, Mold Temperature Controllers