Temperature Modules
Featured Product from Lake Shore Cryotronics, Inc.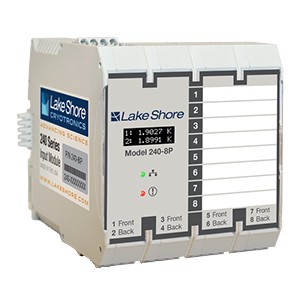 Simplifying large-scale cryogenic temperature measurement
The new 240 Series offers a convenient, modular input solution for precision monitoring of cryogenic temperature sensors in large-scale applications employing distributed PLC-based control.
Lake Shore benchtop cryogenic instruments are trusted throughout the world for precision temperature measurement—now that same measurement performance can be achieved in widely distributed high energy applications like particle accelerators and fusion reactors as well as other large industrial sites.
240 Series Features
Two or eight cryogenic temperature sensor inputs
Supports industry-leading Lake Shore Cernox®, platinum, and other RTDs, plus DT-670 diodes
Precision measurement circuitry with on-board conversion to calibrated temperature units
Monitor temperatures down to 1 K and up to 800 K
Current reversal to minimize thermoelectric offsets
Front-mounted OLED screen for temperature and status reporting
Fully configurable through direct USB connection
PROFIBUS-DP communication integrates with distributed PLC-based control architectures
Easy DIN rail mounting with integrated rear connections for shared power and network