Rugged and Reliable Bearingless Encoder
Featured Product from Lika Electronic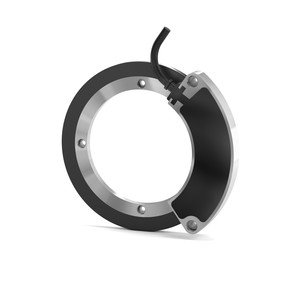 SMAB is the absolute bearingless encoder from Lika Electronic with flat ring and through hollow shaft suitable for large diameter applications and constricted spaces. It is designed to perform reliably in the harshest environments and is ideal for demanding and critical military and industrial installations.
SMAB bearingless absolute encoder + MRAB flat ring combines the advantages of the shaftless design with the benefits of the contactless and wear-free magnetic scanning.
It is distinguished by its 6 mm-thick flat ring with large through hollow shaft (80 mm bore) and the unconventional installation. The poles in fact are oriented axially and the low profile sensing head is mounted over the flat surface of the ring instead of radially as usually.
SMAB encompasses fully overmoulded electronics with up to IP69K protection rate and guarantees great resistance to dust, liquids, shocks, and vibrations as well as immunity to contaminants and interference. Furthermore it affords excellent durability under adverse conditions and even wash down processes. Speeds up to 6,000 rpm can be achieved while comfortable mounting tolerances make installation easier.
SMAB has a resolution of 16 bits (higher resolutions are available on request) and provides the absolute position information through the SSI interface. Along with standard functions such as preset and counting direction, it also delivers warning and error bits to inform about errors and mounting targets so ensuring cushy installation. In addition it is fitted with an integral LED to signal correct operation and alignment. Cable and connector outputs are both available.
By virtue of the heavy-duty and compact slim design and the high quality construction, SMAB modular encoder is perfect for military installations, commercial and defence radars and antennas, automated surveillance systems, robotics, position control of motors, direct drives, advanced industrial machinery and other applications that demand maximum reliability and efficiency with minimum footprint.
Find more information on the extensive range of heavy-duty incremental and absolute encoders from Lika Electronic at http://www.lika.it/eng/prodotti.php?id_cat=267&filtro=110