Steel Test Weights
Featured Product from MarsMetal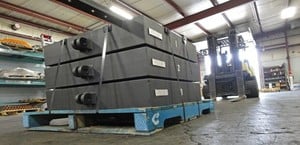 Mars Metal Company, Specialty Casting Division is able to work with you to design any configuration of Stackable Steel Test Weights.
Various individual weights can be designed to achieve the desired weight build by stacking or nesting various weight combinations.
This allows the individual to test all lifting devices in a given facility.
We offer a myriad of lifting options, including 360-degree access by forklifts, cranes, and overhead hoists. All test weights can be made to suit the individual handling requirements of the facility.
Any weight can be custom-made from 100 lbs to over 100,000 lbs.
We provide complete design services, so all weights ordered are completed before in CAD for your review and approval.
Each weight is clearly labeled to ensure the correct combinations can be selected to suit your testing requirements.
In addition, each weight is completely finished and environmentally coated.