MIL-STD-1553 Lab-Rated Cable Assemblies
Featured Product from MilesTek Corporation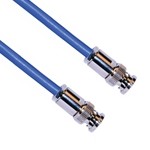 RoHS/REACH Compliant, MIL-STD-1553 Lab-Rated Cable Assemblies. MilesTek's new lead-free lab-rated cables feature an operating temperature range of -20°C to +75°C, 30-02003 PVC-jacketed, 78 Ohm, twinax cable and are available in off-the-shelf lengths ranging from 0.3 meters to 6 meters.
Connector options in this series include 2-slot and 3-slot TRB & TRS plugs and jacks, bulkhead-style jacks, insulted and non-insulted connectors as well as versions with a blunt cut ends. Additionally, select models feature rugged bend reliefs to stand up to demanding applications.
MilesTek designs and manufactures a broad range of MIL-STD-1553B and Ethernet connectivity products to address Military Avionics, Aerospace, Industrial and government applications. In addition to a wide selection of off-the-shelf products, MilesTek can custom manufacture cable assemblies and harnesses. MilesTek is headquartered in Lewisville, Texas and is ISO-9001:2015 certified. MilesTek is an Infinite Electronics brand.