Custom Aircraft Cable Assemblies
Featured Product from PIC Wire & Cable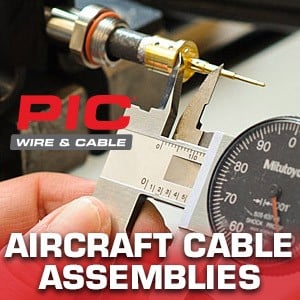 For over 45 years, PIC Wire & Cable has been a global provider of electronic cables, cable connectors, and aircraft cable assemblies for demanding military, corporate and commercial applications that include airplanes, helicopters, ground vehicles, rail transport and marine vessels.
PIC cables, connectors and cable assemblies are widely specified for use in major aerospace and military systems throughout the world. Proper cable assembly is critical to realizing the full benefits of the cable and connector technology. From its broad portfolio of cables and connectors, PIC can provide assemblies for many applications including avionics systems, video and high speed data.
Maximize the performance of your cables - trust PIC Wire to build your assemblies. The experienced PIC technical sales team is available to serve you.
Certified Test Processes & Equipment
Precision Phase-matched Cable Sets
Built and Tested to Customer Requirements
Test Reports Included with Every Assembly
Qualified Assembly Experts
Complete Lot Traceability
High Reliability in Harsh Environments
Improved Supply Chain Efficiency