Tungsten Copper Electrical Contacts
Featured Product from Plansee SE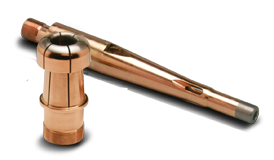 Tungsten copper (WCu) is used for arcing contacts in SF6 circuit breakers for ultra-high, high and medium voltage applications. At the heart of the switching chamber, WCu contacts are exposed to extreme mechanical and thermal loads: When the circuit is opened and closed, the arc starts directly at the switch contacts at a temperature of up to 20 000 °C.
Tungsten-copper is popular because of its combination of unique material properties. A high level of temperature resistance is one of the most important advantages of tungsten, while the copper content increases the electrical and thermal conductivity. Contact materials made of WCu are also characterized by the following properties:
High arc erosion resistance
Good electrical conductivity
Excellent strength
Very good machinability
Good thermal conductivity
Low thermal expansion
No arc erosion: With the right mix of materials.
By choosing the right mixture of tungsten and copper, we are able to influence the product's arc erosion properties. At a tungsten content of 80 %, we achieve the lowest arc erosion rates. Depending on the voltage and current intensity as well as on economic considerations, we can vary the tungsten content between 60 and 90 % to meet the exact needs of your application.
Good conductivity: High density makes it possible.
The denser the material, the better it is at conducting electricity and heat. One trick for producing WCu in higher densities is to add nickel during the sintering process. However, too much nickel has a negative influence on the conductivity of the material. Take advantage of our employees' experience and benefit from an optimum balance between material density and conductivity.
Greater endurance: With a well-defined grain structure.
The higher the applied voltage is, the more resistant to arc erosion the contact material must be. PLANSEE is able to modify the arc erosion resistance of WCu by varying the grain size of its tungsten. For particularly high voltage ranges, we use materials with an extremely fine grain size.
Ready to install: WCu contact systems.
Our ready-to-install contact systems help save you time. Just contact us! We can also cut your assembly times.
From the raw material to the finished product, we handle every production stage in-house: Our specialists at PLANSEE Powertech will develop your own customized arcing contact system with high arc erosion resistance and perform cost-effective, near-net shape sintering, back-casting, machining, joining, coating and assembly operations. This ensures that you benefit from reliable high quality.