Bow-Tie Locking Cotter Pin
Featured Product from Pivot Point, Inc.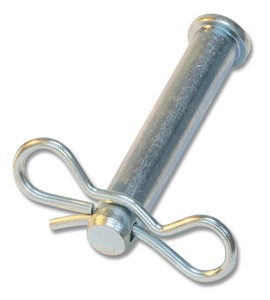 The Bow-Tie Locking Cotter Pin works like a Hair Pin Cotter but locks itself on! (US Patent #'s 6,135,693 & D431,181. Foreign Patents Pending).
Push or pull the cotter leg into hole, the Bow-Tie snaps into a zero-tension locked position. It is easily released by lifting the loop and sliding off, but reduces the risk of being accidentally knocked or vibrated off, as with Hair Pin Cotters.
Numerous sizes available to fit shafts 3/16" through 1". Available in Zinc-Plated steel or 400 series stainless steel.