Wafer Handling Components
Service Detail from Precision Polymer Engineering Ltd.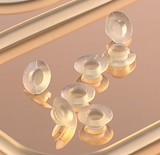 PPE are experts in providing low contact force solutions for your wafer handling requirements. The PPE range of materials includes elastomers with both low and high coefficients of friction, to allow tailoring of wafer retention force.
High purity elastomer materials, such as PPE's Perlast® (FFKM) and Kimura (HPE) grades, are widely utilized for wafer handling components, such as end-effector pads, as they prevent particulation due to their wholly organic nature.
NEW – PPE will launching a brand new range of dissipative and conductive elastomer materials, developed specifically for end effector pads, at Semicon West 2014. These new materials will reduce the damaging effects of Electro-Static Discharge in device processing environments. Visit the PPE booth 2045 in South Hall to be the first to see them.
PPE can help optimize your application using our materials expertize and advanced custom design know-how, ensuring improved pad retention into mating hardware and simplified assembly.