Product Spotlight: Sealing Nuts
Featured Product from ZAGO Manufacturing Company, Inc.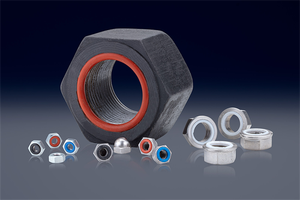 Product Spotlight: Sealing Nuts
BENEFITS
Unlike Ordinary Fastening Nuts:

Engineered with 360° rubber O-ring technology to prevent contaminants from leaking into or out of your equipment and potentially damaging the environment.
Wise Investment:

Save time and money in costly repairs/ replacement parts. No need for washers.
Durable:

Rubber O-ring is unbreakable, air-tight, and leak-proof once seal nut is torqued, unmatched gripping ability, reduced stripping. Easy-to-clean.
Sustainable:

Corrosion resistant and reusable.
Variety:

Available in Hex, Hex Flange, Low Acorn, and High Acorn. Offered in different thread sizes and rubber materials.
Highly Specialized:

Meets Military Spec AS568, food and medical-grade compliant rubber.
Certifications:

Meets DFARS, REACH, RoHS, and DEKRA requirements. Buy American Act compliant and made in the USA.
Perfect for Sealing:

Pneumatic valves and hydraulic systems, medical devices, marine, military and aerospace equipment, satellites, food processing and agricultural machinery.
BUILT TO WITHSTAND:
Water/Saltwater
Moisture/Humidity
Precipitation
Oil/Lubricants
Air & Gas
Alcohol & Disinfectants
Pressure & Vibration
Dust/Dirt
Extreme temperatures & weather
Ozone & UV
Follow us on:
Watch>>>Established Company with the Heart of Start Up
ZAGO Sealing Products Comparison Chart
ZAGO
Based in Newark, NJ, ZAGO's self-sealing fasteners and switch boots are used in countless industries: aerospace, transportation, exterior LED lighting, medical devices, robotics and drones, energy, marine, electronics and more. Clients span the world and include major military contractors, Google, Ferrari, BOSE, Lockheed Martin, Raytheon, GE Energy, L3 Communications, and HP.
In addition to manufacturing contaminant-free products, ZaGO "walks the talk" of a sustainable company: implementing lean manufacturing processes, adopting a solar array on the rooftop to reduce pollution and conserve energy, recycling, and, as a member of the New Jersey Sustainable Business Registry, adhering to rigorous sustainability standards. Through its ZaGO Sustainability 360 program, the company provides education, field trips to its manufacturing facility, and scholarships to encourage children, teens and STEM students living in underserved communities to pursue a career in STEM or manufacturing.