About
Greenleaf Corporation is a leading developer of cutting tool technology, specializing in the manufacturing of high-performance tungsten carbide and ceramic inserts as well as innovative toolholding systems. Greenleaf continues to build on nearly 70 years of innovation, which centers on supplying customers with productive solutions to every metalcutting situation.
Greenleaf Corporation is positioned to serve the evolving needs of companies in all major segments of the metalcutting industry including gas turbine, steel, medical, roll turning, automotive, machine tool and rail. Greenleaf's products are engineered to provide optimal performance against a wide range of materials under the most rigorous metalcutting conditions. In addition to specially engineered tool holding systems and a comprehensive line of carbide inserts, Greenleaf offers high-quality ceramic and ceramic-composite materials, which can be custom designed for specific machining applications.
Headquartered in the United States with offices in Schimmert, The Netherlands and Changsha, China, Greenleaf maintains its commitment to pioneering breakthroughs in cutting tool technology and delivering productivity solutions to customers around the world.
Greenleaf's Global Support Center is the world's most comprehensive online-source for purchasing Greenleaf cutting tools and components. There are over 15,000 items from which to choose. On top of that, you have immediate access to all the technical information you need to run Greenleaf's advanced cutting tool products to their fullest potential.
What you'll find at the Global Support Center: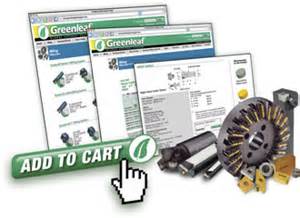 Shopping features:
Access to over 15,000 products, stocking information and pricing
Secure online ordering using credit cards or purchase orders
Flexible shipping options
Easy "one-click" reordering of products
Technical features:
Access to complete technical data on Greenleaf products
Access to video demonstrations and product presentations
Access to Greenleaf Engineering for special tooling projects
Access to Greenleaf's Tech Team for application support
Supplier Directory Categories
Greenleaf Corporation is also listed in these categories:
Technical Articles

Application of WG-300
(Electrical and Electronic Contract Manufacturing)
Greenleaf WG-300, developed by Greenleaf Corporation, is the first commercially available ceramic composite using the technology of whisker reinforcement. It can operate up to 10 times the speed used... (
View Full Article
)

Carbide Grade Descriptions
(Electrical and Electronic Contract Manufacturing)
Greenleaf offers a comprehensive line of carbide inserts in grades ranging from sub-micron C-1 through C-8 classifications. An industry pioneer in coated carbide, Greenleaf offers a variety of... (
View Full Article
)