Profile Home
About

Your best source in the magnetic field!
Master Magnetics, Inc. manufactures and distributes magnets and magnetic devices for commercial, industrial and consumer use. The Magnet Source™ brand represents exceptional quality, expertise and customer service.
over 15 million magnets in stock
fast and cost-effective delivery
expert application assistance, customized solutions
Industrial Magnets
Our experience and customized solutions will match the correct magnet for your application:
lifting, holding, separating, cleaning and retrieving
magnetic assemblies and rare earth permanent magnetic materials for all types of industrial,OEM and commercial applications.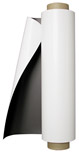 Flexible Magnets
Our flexible magnetic sheeting and strip is ideal for:
vehicle signs, ad specialty, printing and P.O.P. displays.
printing direct to magnet with solvent, eco-solvent, UV and latex ink systems
custom cutting and slitting capabilities

Consumer Packaged Magnets
We offer a complete line of retail-ready magnets and magnetic devices for Hardware, Home Improvement, Automotive, Craft, Hobby, Office/School Supplies and Housewares categories. Available at local and national retailers throughout North America.
Technical Articles