About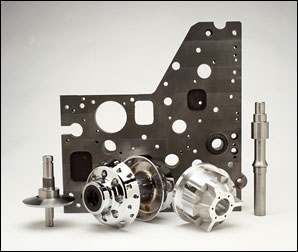 Trace-A-Matic Corp is a dynamic subcontract machining service with multiple climate controlled plants located in metropolitan Milwaukee, WI and in Houston, TX. They have gained a reputation for exceptional quality work on the highly engineered machined parts and assemblies they've produced for their customers. In the process Trace-A-Matic has also gained excellent familiarity with exotic materials and the requisite machining techniques. In addition they've also carved out a niche with their higher volume production CNC turning and milling.
The parts Trace-A-Matic handles range from hand-held to the size of cars! Value added is their specialty!
Trace-A-Matic offers an extensive array of CNC machining centers to meet your subcontract machining needs including:
Horizontal Turning Centers to handle parts up to 32" OD and 156" long
VTLs 90" swing and 75" beneath the rails
Horizontal Machining Centers to handle up to 246" x 150" x 86"
Vertical Machining Centers to handle up to 98 x 51"
Trace-A-Matic continues to invest in the future by adding CNC machining capacity whenever feasible. They are confident they can offer the right machine tools and the right processes to do your job to your satisfaction.
Quality is truly a given at Trace-A-Matic. Throughout the manufacturing process routines are in place to ensure that parts produced exceed customer expectations. These include:
AS9100 Certified Quality Management
ISO 9001:2000 Certified Quality Management
New job planning review with all TAM internal functions involved
Process planning for all jobs
Inspection process control for all jobs
First piece inspection for all operations on all jobs
Effective Gage Calibration Program
CMM Inspection as required
PPAP / First Article / FMEA are all available as required
True GD&T Understanding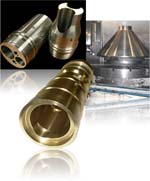 Continuous improvement efforts within Trace-A-Matic have yielded optimized processes for their customers. Selectively using lean manufacturing parameters as applicable Trace-A-Matic has paired pieces of CNC machining equipment together in work cells to facilitate throughput and cycle time productivity that benefits the customer.
Trace-A-Matic invites you to explore their web site for more information about their CNC Milling and Turning Capabilities. If you have specific questions or challenges please feel free to contact them.
Supplier Directory Categories