About
| | |
| --- | --- |
| | SpanTech LLC in Glasgow, Kentucky, is proud to produce The Designer System® family of continuous plastic chain curving conveyors. The Designer System® is a truly modular conveyor system, capable of horizontal and vertical bends within one chain design. These systems are widely used in food production, packaging, pharmaceuticals, and manufacturing. The Designer System® represents the only sanitary plastic conveyance system that is a single, integrated design by one manufacturer. SpanTech also produces multiple types of transfers, both gravity (non-powered) and powered, for handling products at the start and end points of the conveyor. |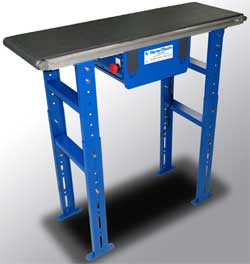 In addition to their flagship Designer System® conveyor line, SpanTech has developed a variety of additional material handling solutions for many different applications. Span Tech's High-Speed Switch is a lane divider designed to split a flow of products into two, three, or four output lanes. Their J-Trax conveyor is ideal for cooling, enrobing, draining, and many other difficult applications. The Spirals handle cooling, freezing, heating, or inclining/declining applications. Topper Lifts incline or decline different size product without adjustment. And that's still not all that SpanTech's versatile line of material handling products has to offer. There is no limit to what can be done with their Designer System® line! The MC 300 conveyor using MicroSpan technology offers a standardized design for next day shipment of low profile custom length conveyors.
Span Tech Advantages
Durable. SpanTech's Designer System® conveyors are more durable than competing conveyors. Large portions of original chain are still running on conveyors that have run six days a week for years, even in areas with high levels of contaminants.
Quiet. SpanTech's conveyor systems are designed as a complete system, with all parts created specifically to work together and reduce noise. Designer System® conveyors create one-twentieth the amount of noise of a conventional plastic conveyor system.
Safe. SpanTech's conveyor chains are completely captured to the conveyor frames, so there is no loose chain on the top or bottom of the conveyor. Dangerous catenaries have also been eliminated.
Clean. SpanTech's chain has a 40-75% open design (depending upon type of chain), allowing crumbs and debris to fall through. Cleaning is easy - the conveyors can be hosed down! And Designer System® conveyors are USDA approved and BISSC certified.
Easy to Maintain. The chain can be opened at any point with a standard screwdriver. Sprockets can be replaced without having to remove the drive shaft. And the modular design allows for standardization of replacement parts.
Easy to Modify. SpanTech uses modular bolted construction, so sections can be added, removed or changed. Drives, idlers, curves, and vertical bends are all individual modular units, and can be changed or replaced independently.
Fast Solutions. SpanTech has spent years optimizing its production processes to bring you the highest quality in the shortest time. Designer System® conveyors are built as complete systems by SpanTech in their Glasgow, Kentucky plant.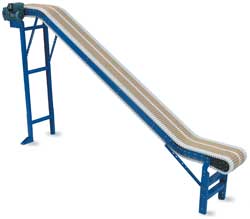 Partnering. SpanTech's Technical Center and Research & Development staff helps you find the best solution to your material handling problem. They back their systems with a one-year, on-site warranty which covers all parts.
Custom Conveyor Solutions. Designer System® conveyors can be combined for near infinite possibilities. Multiple chain types are available for even more variety.
The SpanTech® Designer System has a clear advantage over competing systems. Durable, quiet, safe, and clean, their systems are easier to maintain and modify, and are readily customized to provide you with exactly the system you need. Contact them today for a customized quote or for more information. They look forward to hearing from you!

Supplier Directory Categories
Span Tech LLC is also listed in these categories:
Technical Articles

Fleischer Bagels Case Study
(Industrial Automation Services)
In 1993, Fleischer's moved to a new 42,000 square foot plant on a six acre site, providing ample room to grow if sales continued to increase. Since they were in the wholesale industry, producing more... (
View Full Article
)

Mr. Coffee Case Study
(Material Handling Equipment)
The people at the Mr. Coffee plant in Bedford Heights, Ohio, have a reason to be happy with their production line - they use Designer System conveyors. From 1991, when the SpanTech conveyors were... (
View Full Article
)