Join this webinar to discover GaN as a new technology and its potentials in the power market. The presentation will focus on Infineon's CoolGaN™ product family and the value it will bring to the market.
---
Originally presented:
December 5, 2018
Presented by:

Overview
This webinar will be broadcast at 10 am New York, 7 am Los Angeles, 4 pm Berlin.
The webinar will answer a few high level questions.
Why should your customers choose Infineon's CoolGaN™ e-mode HEMTs and GaN EiceDRIVER™ ICs?
Infineon's CoolGaN™ is the most reliable GaN solution in the market. Why is this, and what does it mean for your customers?
What are the key applications that CoolGaN™ is targeting?
What is the product portfolio and what does the CoolGaN™ roadmap look like?
We will start with a general market introduction and basic info about GaN. Topics like supplier landscape and target applications will be introduced. Then we will focus on Infineon's GaN technology and how it is differentiated from other providers.
Next, we will talk about the value proposition of Infineon CoolGaN™ product family. The presenters will dive into the value of GaN for power supply units, PFC and LLC. Then the key differentiator of Infineon GaN will be highlighted followed by an intermediate summary of the presented contents.
Last, we will list the available products and the roadmap to further emphasize the ambition Infineon has in GaN. Available demonstrators will be listed as part of the reference design. Finally, we will finish the webinar with go-to-market guidance that contains key messages for our partners/customers to be aware of.
Key Take-Aways
Learn why GaN is relevant now
Understand why Infineon is solid choice for GaN
Discover target applications for GaN
See Infineon's available products and product roadmap
Speaker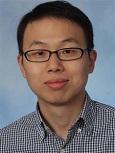 Wei Deng
, Senior Product Marketing Manager, High Voltage GaN, Infineon Technologies
Wei Deng holds an MSc degree in Electrical Engineering and PhD degree in Microelectronics from Delft University of Technology and Eindhoven University of Technology, respectively. He has been working in the semiconductor industry for more than 12 years at various technology companies throughout the value chain. In his spare time, Wei likes outdoor activities such as climbing, swimming, and sailing. He is also a photography enthusiast.