Find out everything about the new EVAL-ADICUP3029. Take a tour through the new ultra-low power Arduino compatible platform, and understand how it works, and how you can use it for your projects.
---
Time:
10 AM EDT (7 AM PDT)
Presented by: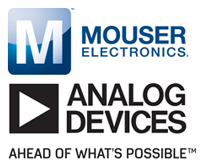 Overview
In this session, you will get to know the new EVAL-ADICUP3029. The Arduino and PMOD compatible development board EVAL-ADICUP3029 with Bluetooth and Wi-Fi connectivity is based on the ultra-low power ARM Cortex-M3 processor ADuCM3029. Its mixed-signal microcontroller architecture features not only high-end processing but also numerous control and connectivity functions. Those functions in combination with various ultra-low power operation states makes it an ideal part of IoT networks. Together with the open source Eclipse based IDE CrossCore Embedded Studio, the platform contains many hardware and software example projects for IoT applications.
Key Take-Aways
Understand the new EVAL-ADICUP3029: how it works, and what you can do with it
Learn how it fits into the ADI IoT ecosystem
Speaker

Brandon Bushey
, System Application Engineer, Analog Devices
Brandon Bushey graduated from the University of Massachusetts with his BS in Electrical Engineering and joined ADI in 2005. Brandon started as part of the Central Applications team, and in 2009 he transitioned to the Core Markets team. Brandon has managed the Circuit from the Lab program at ADI since 2009. Most recently he has been working across teams to help make ADI hardware and software open for customers on open source platforms like Arduino and PMOD, enabling a broad base of customers to have fast access to ADI technology. Brandon has contributed to create several platforms that utilize and encourage the open source software and hardware framework, so customers can get their solutions prototyped and proof of concepts realized faster, increasing their time to market and lowering the overall cost and risk.