This presentations covers the selection criteria for biocompatible epoxy adhesives based on the curing methods and temperature, physical properties such as optical, viscosity, and pot life, and application requirements; substrates and surfaces of the medical device. ISO 10993 for Biocompatibility Testing of Adhesives will be reviewed briefly.
---
Time:
11 AM EDT (8 AM PDT /
5:00 PM CEST)
Presented by: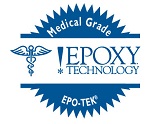 Overview
The biocompatibility of an epoxy is necessary for the selection for medical device applications, however, after this there are many other determining factors for the selection of a medical device adhesive grade.
This presentation explains the various considerations that need to be made in the selection criteria such as: determining the proper curing process, as well as any optical and viscosity properties needed. Several methods of curing along with the limitation in cure temperatures will be discussed.
IR Transparent and VIS Transparent optical properties may also be a part of the selection criteria, along with the need for specific viscosity; paste, low, medium and high flow.
Application criteria includes substrates and surfaces of the device which can range from glass, metal, ceramics, to stainless steel and titanium alloys, to the more challenging plastics and elastomers. The challenges of molding an epoxy to an implantable header will be also examined.
The function of the epoxies will be explored, as they are often more than just an adhesive. The topic of sterilization will be discussed including a summary of technologies, sterilization vs disinfection, and predicting lifecycle.
As the medical device market consists of applications which range from disposables, instrumentation and diagnostics, implants, optics, radiation to imaging to surgical and dental tools, and ultrasound. An outline of these applications, and where biocompatible epoxies are used will be reviewed.
An overview of the ISO 10993 Biocompatibility Testing of Adhesives as it relates to the use of epoxies in medical device applications will be discussed. Attendees will gain an understanding of the process for adhesive biocompatible testing, and necessary documentation for selection in medical device applications.
Attendees will be equipped with the knowledge of how to select the proper biocompatible epoxy based on the selection criteria based their manufacturing, testing, and application requirements.
Key Takeaways
Key properties to consider of epoxies: IR and VIS Transparency, Viscosity, Pot Life
Gain a basic understanding of ISO 10993 Biocompatibility Testing of Adhesives
Adhesion to different substrates in medical devices
The impact of sterilization on epoxies
How Tg can be an indication of cure
Speaker
Michael J. Hodgin
, Strategic Applications Director, Epoxy Technology, Inc
Michael received his Bachelor's degree in Chemistry from Hamilton College in 1994 and began his career at Epoxy Technology, Inc. He worked in the Applications department developing new custom formulations, where his expertise was invaluable in working with customers to solve their application needs. Michael currently is the Strategic Applications Director where his role is to focus on medical device applications, as well as sensors. During Michael's career, he was the MIL-STD 883, TM5011 Test Officer, Technical Services Manager and has authored several technical papers such as, Screen Printable Polymers for Water Level Packaging, Epoxies for OptoElectronic Packaging for the iMAPS Technical Program, and Conductive Adhesives for Thermal Management for Nepcon West Technical Program, just to name a few. Michael presented several of his technical papers at many association forums such as iMAPS, SMTA, Semicon Korea, and Nepcon West.