Learn how to increase the battery life or remove the batteries from IoT devices with indoor light energy harvesting, which eliminates the costs of battery replacement & disposal.
---
Time:
11 AM EST (8 AM PST /
5:00 PM CET)
Presented by: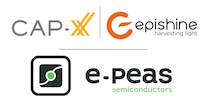 Overview
The global digital transformation requires more and more dataflow between the physical and digital worlds. This is leading to a countless number of small sensors and displays deployed indoors, many of which are powered by batteries. This is not sustainable, neither from an environmental perspective nor from a maintenance perspective. Luckily, disruptive technologies that solve this problem are already here and are conquering the market, pushing the battery industry out of connected applications.
It's time to move to the next generation of self-rechargeable devices and we are glad to demonstrate how to get there. After this webinar you will know how to use energy harvesting from ambient sources to make maintenance-free products - eliminating costly battery monitoring, replacement and disposal. The removal of a battery also provides more devise space, offering designers a chance to innovate and make devices smaller.
e-peas, Epishine and CAP-XX are three companies that are at the forefront of micro energy harvesting: e-peas working with power management; Epishine with indoor solar cells; and CAP-XX with ultra-thin, high energy density supercapacitors for energy storage.
We've put our advanced technologies together to give you a disruptive solution that will give you a competitive advantage and pleased clients.
Key Takeaways
Learn how indoor lighting can create enough energy to replace batteries or substantially prolong battery life in IOT devices
Discover how to size components, like supercapacitors, to deliver the needed power
Realize the bottom-line impact of zero maintenance and sustainable energy harvesting technologies
Speakers