Parallel application of variable frequency drive (VFD) cables 1/0 and larger is not only permitted under the National Electrical Code (NEC), but also offers significant installation, cost and performance advantages. This presentation covers NEC requirements and application considerations and will help attendees select cables for an optimal VFD cable installation.
---
Time:
12 PM EDT (9 AM PDT)
Presented by:

Overview
VFDs, or Variable Frequency Drives, are used by manufacturers to control motors at variable speeds, thus matching the speed of the motor-driven equipment to the load requirement. For example, to operate a long conveyor system in a beer production facility, a motor is used to turn the drive pulley and move the conveyor belt forward.
When higher-horsepower systems are involved, for instance over 200 HP, it is much more difficult for the user to reap the benefits of high-performance VFD cables in terms of handling common current, and ensuring adequate and code-compliant grounding conductors and practices are used.
This webinar will review the requirements and benefits of VFD cable, and then break down the National Electrical Code (NEC) regulations for parallel application of cables and conductors. Attendees will learn the code limits and reasons that typical construction-grade VFD cables do not meet the NEC regulations in parallel applications.
The presentation will include cover how a premium VFD cable with 100 percent ground conductor is well-suited to this type of application, and demonstrate the savings in copper and weight attainable with parallel application of VFD cables. Audience polling and participation in the event will ensure that the participants' key areas of interest are addressed.
Key Take-Aways
Learn how to select parallel conductor solutions for high HP drive systems.
Demonstrate the copper savings with higher ampacity per circular mil area (CMA).
Illustrate the applicable code sections for drive cable sizing.
Speaker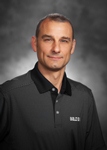 Peter Cox, P.Eng
, Director, Global Industrial projects
Peter Cox brings 29 years of experience in the industrial automation and process control fields to his role as director of industrial projects for Belden's industrial cable business. His experience with variable frequency drive (VFD) systems goes back to 1988, when he participated in the test of the first VFD cables developed with a major drive manufacturer. With a background in engineering, sales and project management, and a degree in mechanical engineering, Peter's VFD cabling recommendations are both practical and sound.