This presentation covers the fundamentals of tolerance rings and their various applications. It explains why tolerance rings are an innovative mounting solution for cylindrical components when designing and troubleshooting.
---
Time:
2 PM EDT (11 AM PDT /
8:00 PM CEST)
Presented by: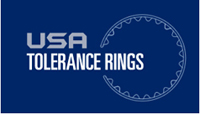 Overview
In this presentation, attendees will learn how tolerance rings can improve existing and prototype product designs. Practical guidelines will be given regarding tolerance ring application, design, and installation. Key points of discussion will include: ring functions (fastening/joining/centering, bearing mounts, torque transfer); wave deflection (elastic vs plastic, radial load vs torque); plus ring anatomy and mounting arrangements (free, centered and half-centered). In addition, attendees will gain a better understanding of spring theory, ring style (AN, BN), and standard vs non-standard configurations.
Key Takeaways
Gain valuable knowledge on the technical fundamentals of tolerance rings
Learn how product designs can be improved with tolerance rings
Understand how tolerance rings can solve problems in various applications
Learn how tolerance rings can reduce manufacturing costs
Benefit from USA Tolerance Ring's expertise in mounting bearings, torque transfer, and fastening/joining
Speaker

George Spais
, Senior Mechanical Engineer, USA Tolerance Rings
George Spais is USA Tolerance Ring's Senior Mechanical Engineer and Vice Chair of the local ASME section. He is directly involved with all technical aspects of tolerance rings, including R&D, design, manufacturing, and quality control. George attended Rutgers University where he earned his degree in Mechanical Engineering.
Moderator Mike Carpenter is Director of Business Development at USA Tolerance Rings