Cold Planers Information
Cold planers are asphalt milling machines that remove pavement or concrete from driving surfaces. Cold planers can also be known as pavement planers, pavement recyclers, mill or asphalt milling machines, or roto-mills.
Cold planers are widely used for pavement recycling. Pavement is ground up and collected to be used as aggregate in new pavement. For asphalt surfaces, the reclaimed asphalt pavement (RAP) can be recycled by combining it with new aggregate and asphalt cement (binder) or a recycling agent.
Milling removes anywhere from just enough thickness to roughen the surface to full depth removal of the paved surface. In addition to material recycling and road resurfacing, specialty asphalt milling machines can be used to grind features such as rumble strips to add driver guidance to roadways.
Operation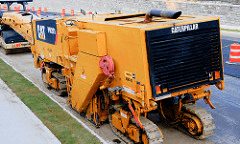 A cold planer operates by bringing a rotating drum with carbide cutters into contact with pavement at a specific depth and slope. The spacing of the cutters around the drum affects the end surface of the road, with micro-milling having the closest spacing. The cutters can be removed and replaced as they wear out or are damaged. They typically last between a few hours to a few days depending on the material being ground and the incidence of unintentional strikes of manholes or valve access boxes.
The majority of milling machines use an up-cut setup in which the drum rotates in the reverse direction of the cold planer travel. The drum is enclosed in a housing that is used to contain the milled material. Water is generally applied to the drum as it spins to cool the drum and control the dust being created.
Cold planers come in many sizes and configurations to accommodate specific applications. They are available as engine- or hydraulic-powered attachments that are compatible with skid steers, compact track loaders, compact wheel loaders, or fully dedicated machines. Cold planers are available in a wide range of sizes with cutting widths of ½ inch to 14 feet wide and cutting depths of surface roughing-up to 12 inches deep. Fully dedicated planers are man driven machines that include the grinding drum that grinds and collects the material as well as a conveyor system to remove the material from the work area.
Dedicated cold planers range from small highly maneuverable machines for workaround jobs requiring detail work such as parking lots, to large high capacity machines that remove large swaths of pavement such as on highways and airport runways.
Image credit: