Rain Gutters and Downspouts Information
Rain gutters and downspouts create a system of troughs to redirect rainwater as it streams off of a structure's roof. They are also called guttering, raintroughs, and eavestroughs. The main intent of a gutter is to redirect water run-off away from the building's foundation. All run-off that is not rerouted will fall near the perimeter of the structure and begin eroding the nearby soil, eventually compromising the structure foundation. As such, gutters are typically placed along the lowest edges of the roof, relying on gravity to drain the water through a downspout and away from the structure. This run-off could be collected for a variety of uses.
Gutters are commonly made of cast iron, zinc, galvanized or painted steel, copper, aluminum, PVC, or occasionally masonry. They are available in a variety of colors and designs to compliment the structure's architecture. Gutter systems are typically pieced together using precut sections, but seemless gutters can be custom fit to many buildings. Additionally, using a covered gutter system or installing mesh, screens, or hoods can reduce the amount and particulate size of outdoor debris which may clog the channels.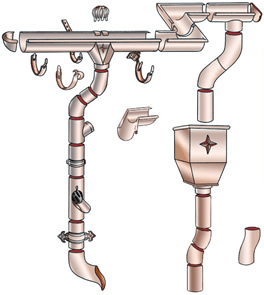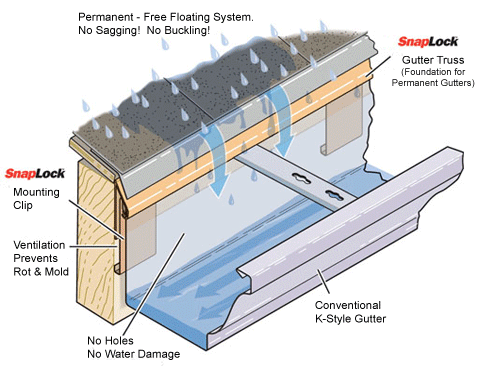 Images credits: Slate and Copper; Spokane Rain Gutter