Wallboard Information

Wallboard is used to create barriers in interior spaces. Many residential and commercial buildings have wallboard separating spaces into rooms. Wallboard can be used to create a ceiling. Some wallboard is fireproof or decorative.
Builders refer to wallboard products by a variety of names, including drywall and paneling. Sheetrock, a registered trademark of the U.S. Gypsum Co., is a popular type of gypsum wallboard. Like other types of drywall, Sheetrock differs from traditional plaster wall-covering methods in that it does not require the application of moisture. Builders can avoid lengthy dry times and continue with construction projects even during cold-weather months.
Typically, wallboard is made of a layer of gypsum (calcium sulphate dihydroxide) sandwiched between two layers of paper. It is sold in standard-sized sheets which can be cut to size.
Types
Wallboard may have one or more of the traits listed below. For example, a specific type of wallboard may resistant to both abuse and mold.
Regular drywall is square-edged and sheets are placed next to one another as they are fastened into place. In some cases, the edges may be tapered to fit together.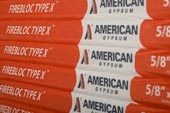 Fire-resistant drywall is thicker than regular drywall and has a special core to achieve fire-resistance ratings where it may be required by law.
Mold- and moisture-resistant drywall is breathable with a waterproof core. This type of wallboard typically has a paperless backing and a special surface coating to protect from damage in wet areas.
Impact-resistant drywall is strong wallboard with a polystyrene layer.
Abuse-resistant drywall is designed for areas prone to surface abrasion and indentation.
Lightweight drywall is similar to regular wallboard, but has a lighter-weight core. Some brands advertise weights 30% lighter than regular drywall.

Acoustic drywall has soundproofing capability.
Decorative wallboard may have the appearance of tile, woodgrain, or stonework. Beadboard is another type of decorative wallboard. Decorative wallboard may be functional, for example, peg board.
Cement board is not exactly drywall, but is used similarly. It is strong and is often used as a subfloor or beneath or behind tiles.
This chart further explains the ideal type of wallboard for use in various applications.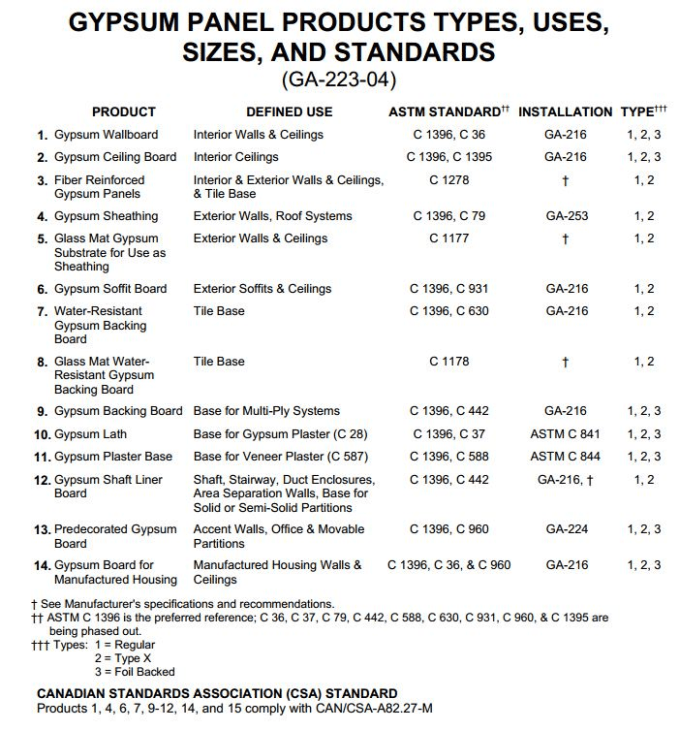 Image credit: Gypsum Association
Size
Sheet Size
Wallboard is available in sheets of various sizes. Width ranges from 2 ft. to 4.5' ft. and length ranges from 8 ft. to 12 ft. Some common sizes include:
4 ft. x 8 ft. (most common in residential construction)
4 ft. x 9 ft.
4 ft. x 10 ft.
4 ft. x 12 ft.
Sheet Thickness
Wallboard thickness varies based on application. Here are some available wallboard thicknesses:
1/4 in.
5/16 in.
3/8 in.
1/2 in. (most common in residential construction)
5/8 in.
3/4 in.
1 in.
This chart further explains wallboard sizes for specific applications.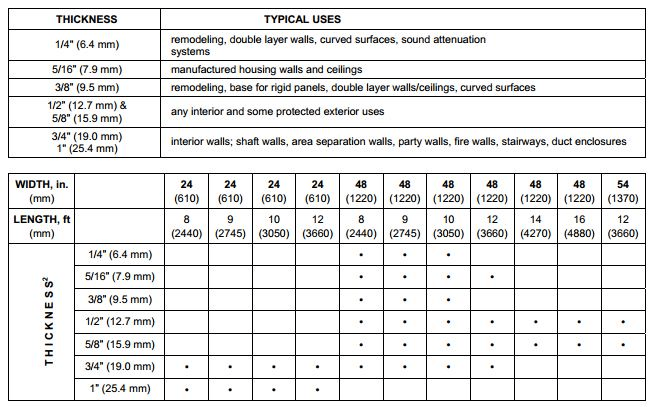 Image credit: Gypsum Association
Installation
Wallboard is relatively easy to install and maintain, especially when compared with traditional plaster wallcoverings.
Wallboard can be oriented horizontally or vertically. Vertical installation is the most common method for 8 ft. walls.
Typical installation requires just a few steps:
Position drywall panels against unfinished walls

Attach drywall into wall studs using drywall screws or drywall nails

Cover seams with joint tape and joint compound or "mud"

Cover seam between ceiling joist and wallboard panel with wallboard tape
Video credit: finehomebuilding / CC BY-SA 4.0
Standards
CEGS 09250 - Gypsum wallboard
References
Image credits:
CertainTeed (Saint-Gobain) | American Gypsum | British Gypsum (Saint-Gobain)