HVAC Services Information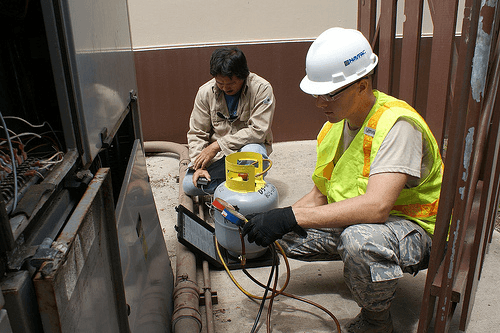 HVAC services include construction, installation, and servicing of heating, cooling, and ventilation systems and equipment. HVAC is an acronym for heating, ventilation, and air conditioning. HVAC services organize the regulation of temperature inside a building, using either heating or cooling systems, wall and ceiling ducting, or other HVAC technologies.
Types of HVAC Services
There are many different types of HVAC services. Examples include:
HVAC maintenance
HVAC troubleshooting
HVAC repair
HVAC ductwork
In order to keep equipment running properly and efficiently, HVAC maintenance, such as changing belts and filters, greasing bearings, and making adjustments to equipment due to wear and tear, is done periodically. HVAC ductwork includes pipe or closed conduits made of sheet metal, fiberglass board, or other suitable material for conducting air to and from an air handling unit. HVAC troubleshooting improves the efficiency of the primary heating, cooling, and ventilation systems of buildings. Most HVAC products are designed for a life expectancy of 15 to 20 years but factors beyond the control of the manufacturer may lead to the repairing of the equipment. HVAC repair should be permitted after checking projected repair and operating expenses and comparing them to the operating costs of new equipment. Other HVAC services are also commonly available.
Features
HVAC services can be carried out successfully by a trained HVAC technician who can work as an installer or perform maintenance and repair. An HVAC technician can work on very large systems as well as smaller systems. However, HVAC mechanics install, service, and make repairs to air-conditioning, refrigeration, and heating systems in both commercial and residential establishments. After putting the equipment in place, HVAC mechanics install fuel and water supply lines, air ducts and vents, pumps, and other components. In larger, industrial systems, HVAC software is used to manage an HVAC service system with respect to other areas such as scheduling, dispatch, billing, maintenance, and inventory. Specialized HVAC software is also used by engineers to design ductwork and piping plans. HVAC software programs usually integrate with computer aided design (CAD) software. HVAC services can be provided by an HVAC consultant or specialist during the design phase of a project.
Applications
HVAC services are used in many applications. Some examples include improving the efficiency of the primary heating, cooling, and ventilation systems of commercial buildings. HVAC services enhance system performance evaluation and efficiency optimization of central boiler and chiller systems, vapor-compression cycles of AC and heat pump systems, and of distribution and ventilation systems. HVAC services reduce consumption of energy and increase understanding of system maintenance.
Standards
HVAC services should adhere to standards established by the Underwriters Laboratories (UL).
Related Information
Engineering360—Retailer Offers HVAC Services in Pilot Test
Engineering360—Pressure to Connect Is Changing Building Management: Navigant
Electronics360—Mitsubishi Air Conditioning Units Installed in Futuristic Grand Theatre de Rabat in Morocco
Image credit:
NAVFAC / CC BY-SA 2.0