Data Center Management Information
Data center management services provide local or remote management of assets, utilities, and devices in a data center. Services may include:
Storage management of hard drives and other types of storage.
Infrastructure management including wiring or network configurations.
Server management of the resources that exist to serve the requests from clients in a client-server architecture.
Building management including heating, ventilation, and air conditioning (HVAC) systems, fire suppression systems, and uninterruptible power supply (UPS) systems.
Equipment installation at the physical data center location.
Equipment sourcing to assist in finding and purchasing data center equipment.
Software management of software running on data center equipment.
Data center management is concerned with the power, cooling, networking, storage, and security demands of a data center, attempting to maximize system availability and minimize capital and energy expenditures, while complying with applicable regulations, standards, and process requirements.
Data Center Infrastructure Management (DCIM)
Data center infrastructure management (DCIM) takes a holistic approach to overseeing all of the information technology (IT) resources located in a data center, including system, building, and energy management. Data center infrastructure management is concerned with monitoring, measuring, managing, and controlling the utilization and energy consumption of all IT equipment and facility infrastructure in a data center.
IT equipment can include: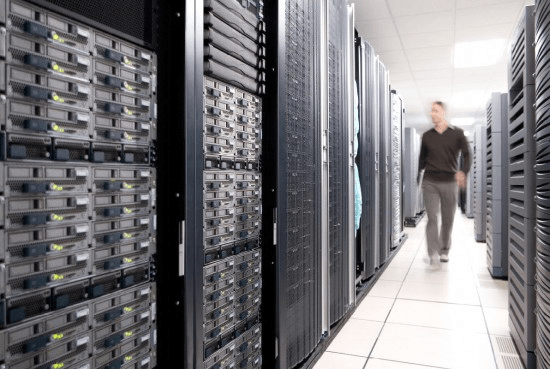 Servers
Storage
Network switches
Network cables
Facility infrastructure can include:
Power distribution units (PDU)
Uninterruptible power supplies (UPS)
Diesel generators
Air conditioners
Heat exchangers
Fire suppression systems
A data center infrastructure management implementation provides a common platform for real-time monitoring and management for all IT equipment and facility infrastructure. Data center infrastructure management is intended to optimize data center operations such as managing asset lifecycles, planning for capacity demands, and improving energy efficiency. DCIM includes power monitoring, environmental monitoring, resource management, reporting, and multi-level visualization functions. DCIM can allow managers to identify underutilized assets such as power equipment, cabinet space, switch ports, or storage capacity.
Image credit: