Wastewater Treatment Operating Services Information
Wastewater treatment operating services are companies that operate and manage wastewater treatment facilities for public and private customers. They are staffed by certified plant operators who typically perform field sampling, laboratory analysis, routine maintenance, and pretreatment program monitoring. Some wastewater treatment companies also offer services such as infrastructure evaluation, system optimization, and environmental compliance consulting. Others have secondary capabilities such as project management, systems integration, business consulting, and financial management.
How Wastewater Treatment Works
This diagram shows the operations of a wastewater treatment plant in California. This solar-powered facility uses pumps, clarifiers, aerators, and other systems for water reclamation. Sludge digesters and dewatering equipment are used to treat solids that are dried and then disposed of or reused.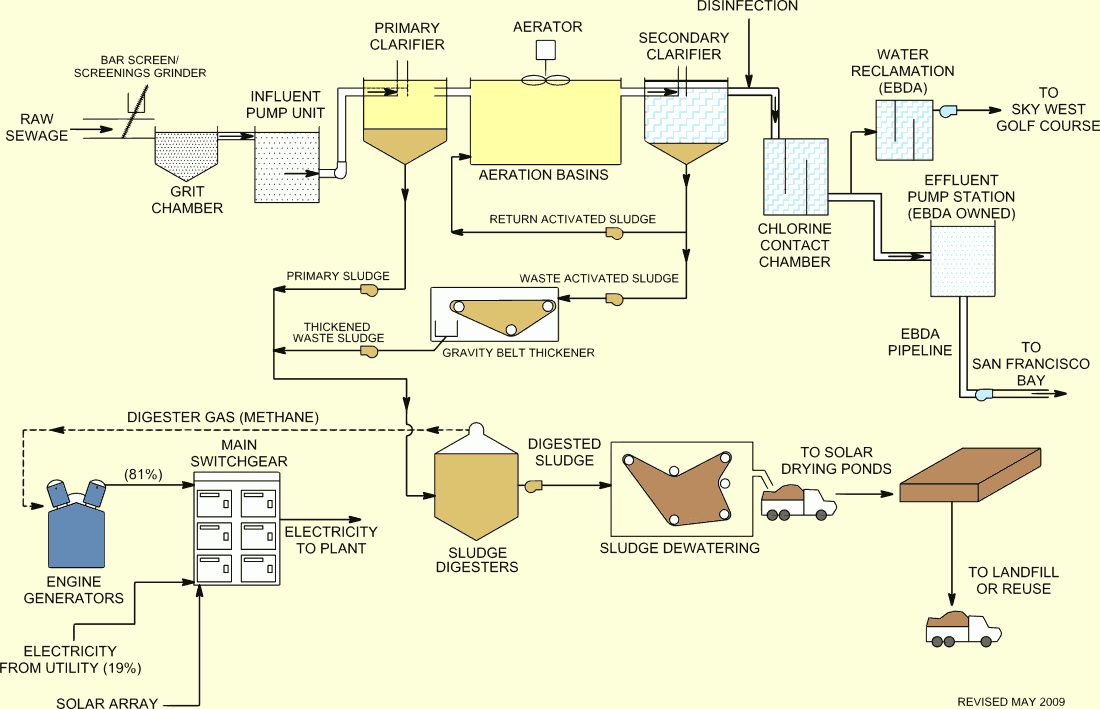 Image Credit: Oro Loma Sanitary District
Supplier Capabilities
Broadly speaking, wastewater treatment operating services have three main capabilities: facility operation, management, and improvements.
Facility operation involves tasks such as laboratory testing, regulatory reporting, routine maintenance, facility troubleshooting and evaluation, and collection system operation. Companies with basic operational capabilities may also handle chemical sales and provide emergency services.
Facility management usually involves regulatory compliance and municipal permitting, pretreatment program administration, and combined sewer overflow (CSO) monitoring. Wastewater treatment services with management capabilities may also administer the sludge and bio-solids permitting and coordination process.
Facility improvements cover tasks such as pump repair, the calibration and maintenance of analytical instruments and flow meters, and periodic maintenance of pipes and wires. To avoid permitting violations, most improvements require the services of civil or environmental engineers.
When searching for wastewater treatment operating services on Engineering360, buyers can select supplier with specific testing, inspection and certification capabilities. These include laboratory and/or materials testing, condition evaluation, and regulatory compliance. Buyers can also select suppliers with specific capabilities in operations, management, and maintenance. For example, some wastewater treatment services also offer legal services.
Industries and Locations
Wastewater treatment services may specialize in certain industries or geographic areas. For example, some companies have the necessary training, certifications and experience to meet the requirements of the food and beverage industry. Companies that treat agricultural, chemical, or manufacturing wastes in specific regions or countries are also available.
References
Wastewater Treatment Methods and Disposal