Billing Software Information
Billing software automates the tedious process of billing for services rendered or products purchased. An extensive selection of similar programs available in today's market feature distinct functions designed to meet the needs of particular industries. Some time and billing software, for instance, caters to professionals such as attorneys who charge their clients based on total billable hours.
Medical billing software is mainly employed for charging fees based on services performed rather than time spent on a task. These applications reference unique codes associated with medical procedures or processes when determining the payment amount. Retailers and other businesses involved in selling or shipping goods employ a similar software solution, he inventory-based billing system, where the billing amount is derived from individual inventory items.
The scope of billing software solution services ranges from simple invoice production to comprehensive business management. Detailed information stored by these systems enables them to calculate and provide reports on various financial measures such as cash flow, profitability, and payments errors in addition to being able to use the functions of regular billing software.
Types
The assortment of billing software packages available on the market includes the following:
Time and billing software: This is a broad classification of software designed for use by companies in the field of professional services, such as accounting or law firms. This type of package performs three primary tasks: it tracks time, bills, and hours and categorizes each activity by the project. The system may include scheduling and document-organizing functionality. Most models feature a module for accounts receivable or possess an integration capability, allowing for interfacing with third party accounting packages.
Legal billing software: This type of software comes with specialized features designed to facilitate the efficient operation of legal firms. These incorporate bill batching, invoicing functionality, trust reporting, and accounting. Some firms employ comprehensive legal practice management software that combines billing applications with other functions to assist in conducting their business.
Medical billing software: This software bases the billing amount on codes utilized for medical billing. These codes, known as Current Procedural Terminology (CPT) codes, refer to specific procedures performed by an employee of a physician's office or a hospital. When an insurance company or government agency receives the bill for processing, the payment is authorized, rejected, or sent back for changes. Necessary alterations are made based on the feedback from the organization paying the bill.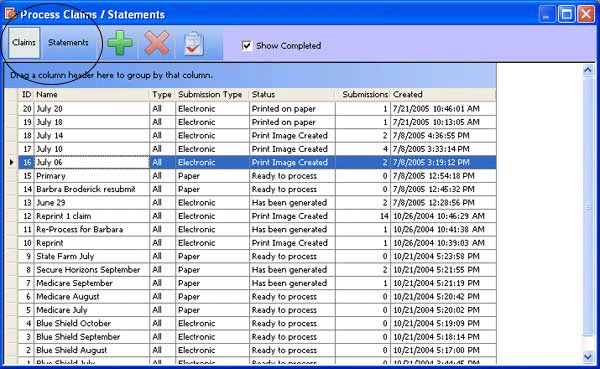 Medical billing software contains patient billing functionality for shared costs in the case of co-payments and procedures not covered by an insurance plan. Some systems transfer claims electronically for faster reimbursement.
Advanced models store patient information in the system, enabling immediate access to relevant medical records for historical reference. With increased emphasis on data security of patient health records in recent years, some programs maintain full database encryption to reduce the chances of a data breach.
Inventory billing software: This software targets businesses that generate profits from inventory trading. These include firms in manufacturing, retail companies, and wholesalers. Billing amounts created by the software represent the prices of inventory items stored in the system. The items are valued using several methods and sources, including set pricing lists, varying prices depending on certain factors, or an explicit markup.
Recurring billing software: When running subscription services or businesses, such as software-as-a-service (SAAS), recurring billing software is a convenient option. Automating the process eliminates the time and effort needed to re-bill customers at periodic intervals. Furthermore, such programs provide valuable historical data concerning past billing for use in revenue projections and historical data comparisons.
Features
Billing software offers a diverse set of features, including:
Automated time tracker (on a per project basis)
Retainer and contingency billing
Multiple-user functionality
Automatic backup
Cloud access
Recurring billing by period (daily, weekly, monthly, etc.)
Default hourly rate billing per user
Reports by type (cash flow, payables, receivables, etc.)
Receivables management
Invoice management
Reports by vendor/supplier
Data export capability
Invoice layout design capability
Separate travel and materials invoicing fields
Automated alerts for scheduled invoicing activity
Multiple project billing functionality
Billable vs. non-billable hour tracking
Company logo display on invoices
Project billing
Hourly billing
Late payment reporting and alerts
Hours per project and per client tracking
Expense tracking and insertion in invoice
Non-standard payment terms support
Multiple tax rates support
Multiple currency support
Reports by client, project, and date
Database encryption
Applications
Billing software serves a variety of applications including:
Accounting
Legal
SAAS (software-as-a-service)
Retail
Manufacturing
Recurring billing
Selecting Billing Software
When selecting billing software, first check to see if specialized solutions already exist for the intended use. Make sure to verify that the features offered by a system fulfill the requirements and justify any added expense involved. Some other factors to consider include:
Invoicing capability: Ensure the software package enables the inclusion of details integral to the operation of your business. Such items can include detailed expense listings, hourly activity breakdowns, and codes relevant to different products and services.
Reports and notifications: Look for software with the ability to provide detailed reports related to billing and invoicing. Also, notifications listing the scheduled invoice dates and late payments provide valuable functionality beyond simple billing capability.
Cloud access: The convenience of logging into a billing solution from any location can be highly advantageous, particularly for firms with employees working offsite.
Support: Given the complexity of some billing software programs, the level of support offered by the software provider is a critical factor to consider.
Payment methods: For software packages that include payment functionality, verify if your preferred payment options are supported (credit cards, debit cards, PayPal, bank wires, etc.) and evaluate any setup fees involved in administering online payments.
Data integration: If you plan to integrate data from your billing software solution with other programs, look into the data export and import capability of the billing software you are interested in.
References
Image Credit:
Winceron Software Technologies Pvt. Ltd.
|
MedOffice