Digital Asset Management Software Information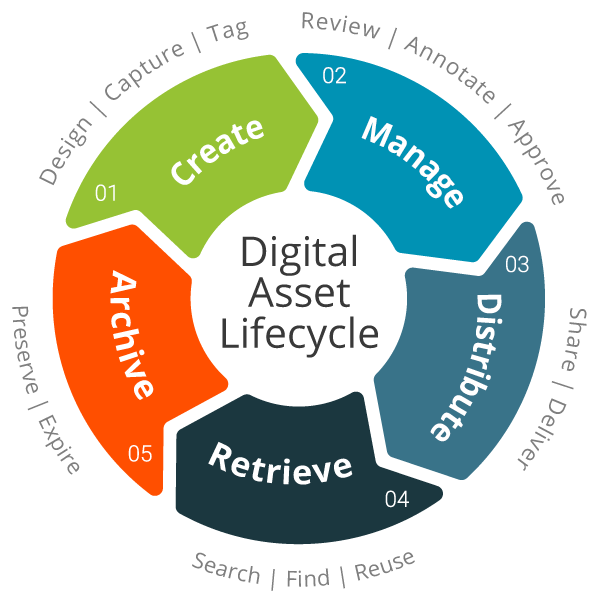 Digital asset management (DAM) software is used to catalog, store, and retrieve digital assets such as audio and video files, logos and line art, and marketing materials.
Types
Types include applications for:
brand asset management
brand resource management
media asset management
production asset management
digital supply chain services.
DAM software is also used with both library asset management and entertainment media asset management systems. Related products include document management (DM) software, knowledge management (KM) software, and digital rights management (DRM) software.
Features
Digital asset management software includes:
a repository
a metadata index
a search index
an access and rights subsystem
a workflow or collaboration engine
The repository consists of a relational database or file system to represent the stored content. Repository services include categorization, version control, uploading, and downloading. The metadata index for digital asset management software includes descriptors and data about hierarchical, associative, and equivalent relationships. The search engine allows users to query both the metadata index and the repository. Digital asset management software also allows system administrators to determine which users can view and/or change which objects. The workflow or collaboration engine in DAM software allows multiple users to schedule and define various tasks.
Applications
DAM software differs in terms of file and content types as well as business applications. Some DAM software is designed for images, logos, and line art; audio and video files; three-dimensional (3D) drawings; and animations and HTML files. Other DAM applications are designed for proprietary software applications such as Quark Xpress (Quark, Inc), Adobe InDesign and Illustrator (Adobe), and PowerPoint (Microsoft). Business applications for DAM software include advertising and marketing collateral, multimedia press and sales kits, multimedia marketing and training materials, corporate presentations, and video on demand (VOD). DAM software is also used with image, video, font, and logo libraries. Digital asset creation, digital asset distribution, workflow management, and compliance with archival requirements are additional functions of DAM software.
Specifications
Some DAM products require users to have a personal computer (PC), a software license, and a proprietary operation system (OS) such as Microsoft Windows (Microsoft Corporation). Typically, these applications feature client-server architecture. Web-based digital asset management software does not require machine-based software licenses, and provides access from multiple workstations. Typically, users work within a Web browser such as Internet Explorer.
Related Information
CR4 Community—Comparing Digital Files
CR4 Community—Photo Links in Excel
CR4 Community—The End of 2D Drawings
Image credit:
Haztowichp / CC BY-SA 4.0