Finite-difference time-domain (FDTD) Software Information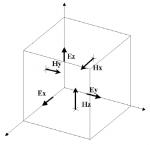 Finite-difference time-domain (FDTD) software is a numerical method that models electrodynamic systems by finding approximate solutions to a set of differential equations associated to the system.
Time-domain electromagnetic simulation uses Maxwell's equations and advances them over time within a specified region of the electromagnetic field.
Features
An advantage of a time-domain analysis over a frequency-domain analysis is that it gives a broadband output from a single implementation of the software and the output is scalable with little performance difficulties.
Specifications
The software divides time and space into discrete components:
the space component is split into cubes
the electric fields are located on the edges
the magnetic fields are located on the faces
This orientation is known as a Yee cell. Time is constrained to small steps that allow the program to calculate the electric and magnetic fields accordingly, allowing for accurate simulation.
Resources
Related Information
IEEE Spectrum—Semcad X Jungfrau Marks the Spot (the Hot Spot)
IEEE Spectrum—Calculating Fields
Image credit: