Inventory Control Software Information
Inventory control software is used to manage stock levels, record physical inventories, and track trends in item movement and location. Inventory control involves supervising the supply, storage, and accessibility of stock items, both to ensure an adequate supply and prevent a costly oversupply. In larger organizations, inventory control systems may integrate inventory control software with fixed or handheld devices that can read or print barcodes and RFID tags. These bar code scanners are designed to read specific, imprinted bar or matrix code symbologies. Similarly, radio frequency identification (RFID) products are designed read or write data to special RF tags.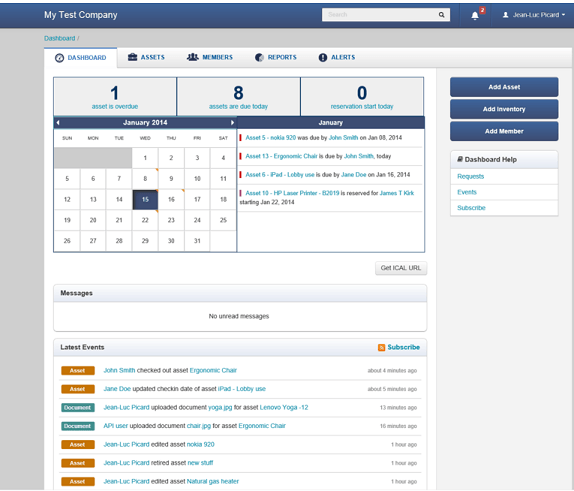 Inventory control software dashboard. Image credit: EZOfficeInventory.com
Complete inventory control systems usually provide an integrated package of software and hardware for use in warehouse operations. With such systems, inventory control software is used to monitor the quantity, location, and status of inventory items. Often, these software applications also support a company's shipping, receiving, picking, and put-away processes.
Inventoried items may include the following:
Physical assets such as merchandise, consumables, and parts
Fixed assets or capital equipment
Tools issued from a tool crib for use on specific jobs, work orders, or tasks
To record inventory transactions, employees use a barcode scanner or RFID reader to automatically identify the inventory object and capture usage information.
There are many types of inventory control applications, such as the following:
RFID inventory control software
Programs for tool control
Order fulfillment
Real-time inventory control
Physical inventory applications
Inventory control systems that are designed to automate the sales order fulfillment process provide a list of the items to pick, along with their locations. Shipping and packaging information is also available. Real-time inventory control software uses wireless, mobile terminals to record inventory transactions at the moment they occur. A wireless local area network (LAN) transmits the transaction information to a central database. Physical inventory counting and cycle counting are also important features of inventory control software.
Selecting inventory control software requires an analysis of both software and hardware requirements. In terms of software, operating system (OS) and platform are important to consider. Often, inventory control software for the personal computer (PC) is designed for use with Microsoft Windows (Microsoft Corporation). Web-based inventory control software is also available. In terms of software, compatibility with handheld or mobile devices is an important consideration. Some software vendors may recommend specific barcode readers, barcode printers, RFID readers, and RFID printers.