Laser Scanning Cytometers Information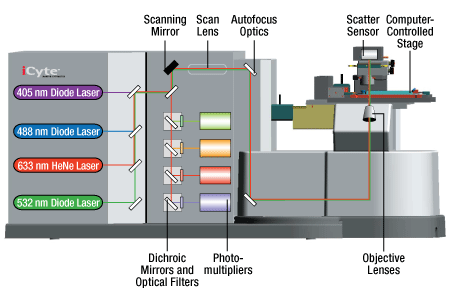 Laser scanning cytometers (LSC) are biological instruments that automatically determine the biochemical components of cells, as well as their morphology and cellular location in situ. Laser scanning cytometers use laser-based optoelectronics and automated analysis capabilities to simultaneously and rapidly measure biochemical constituents and evaluate cell morphologies.
Laser scanning cytometers are used in applications such as:
Apoptosis detection
Imaging of cells to confirm changes in nuclear morphology
Identification of cells that differ in degree of chromatin condensation
Detection of translocation between cytoplasm, nucleoplasm, and nucleolus of regulatory molecules
Semiautomatic scoring of micronuclei in mutagenicity assays
Analysis of fluorescence in situ hybridization
Enumeration and morphometry of nucleoli
Analysis of phenotype of progeny of individual cells in clonogenicity assay
Cell immuno-phenotyping
Analysis of tissue section architecture
In situ enzyme kinetics and other time-resolved processes
A laser scanning cytometer is equipped with up to four lasers chosen from a choice of six possible wavelengths: 405 nm, 488 nm, 532 nm, 594 nm, 561 nm, and 633 nm. Up to four photomultiplier tubes (PMT), each detecting a specific wavelength range, collect fluorescence from excitation by scanning lasers. As the laser light intersects the sample, scattered or transmitted light is simultaneously directed to one or more solid state photosensors. The photosensor and PMT signals are converted into 14-bit pixel values that are then assembled into high-resolution images. The instrument's unique design allows simultaneous use of fluorescent and chromatic dyes.
References
National Institutes of Health—Laser scanning cytometry
Image credit: