Microplate Processing Systems Information
How to Select Microplate Processing Systems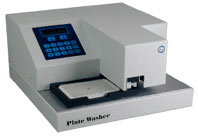 Microplate laberler. Microplate sealer. Microplate washers
Image Credit: Agilent Technologies | Geneq
Microplate processing systems are used to prepare samples for drug discovery or chemical analysis applications. These systems are high-speed production units that stack and feed, clean, dry, dispense or coat sample media, label, and incubate microplates. Microplate processors are available as complete turnkey systems as well as customizable modular designs.
The systems can incorporate microplate washers, barcode label units, material handling units such as conveyors, stacker or feeders, dispensers, coating machines, incubators, storage units and microplate readers.
Types
There are many types of microplate processing systems.
Microplate dispenser- A microplate dispenser is widely used in drug discovery and life science research laboratories for dispensing low volume liquid solutions.
Microplate washer- A microplate washer is a fast and reliable 96-well device for providing very precise fluidic delivery in laboratories. A microplate washer is a versatile device because of its capability of handling user defined wash protocols and plate types.

Coating machine- A coating machine is a cantilever type swing out machine that acts as a cooling steel roller for coating on printer material and film rolls. Other microplate coating and processing systems are commonly available.
Function
There are several ways in which microplate processing systems function. The device may have stainless steel 304 dispensing probes and polyethylene terephthalate coated dispensing heads. Besides these, a microplate dispenser also requires a voltage source of 100 to 240 volts and a current of 50 to 60 Hz and should support a dispense accuracy of +/- 50 nanoliter at 1 microliter. A microplate washer is equipped with an 8-way and 12-way interchangeable wash heads and has a soak time or aspirate time ranging from 1 to 999 seconds. It should have a variable dispense pressure ranging from 1 to 19.9 psi.
A microplate processing system should work at a speed of 180m/min. The processers are designed and manufactured to meet most industry specifications.
Applications
Microplate processing systems are used in many applications. The system is also widely used in laboratories for DNA, EIA, and RIA probes and in genomics, proteomics, clinical and diagnostics applications. In addition, microplate processing systems are used for cellular analysis in laboratories, automotive industries, glassware, paper, and textile industries.
All processing systems should adhere to American National Standards Institute (ANSI) standards and International Standards Organization (ISO) standards.