Die Sets Information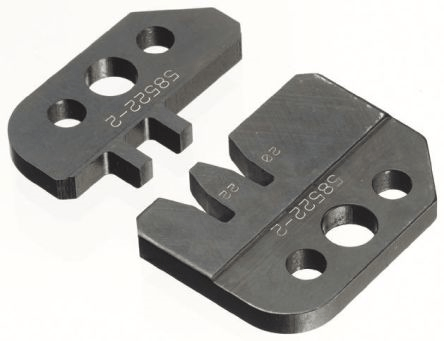 Die sets are assemblies that link the upper and lower die holders. They include guide pins or posts, guide pin bushings, heel blocks, heel plates, and die shoes.
Features
Die sets are metal plates, usually made of aluminum or steel, that provide a foundation for mounting the die components. These plates are milled or ground so that they are flat and parallel. Next, the upper and lower die shoes are assembled with guide pins, die set components that are sometimes called guide pins or guide pillars. To properly align the upper and lower die shoes, guide bushings are also used. When selecting die sets, specifications such as guide pin type and materials of construction are important considerations.
Types
Die sets use two basic types of guide pins and guide bushings: friction and ball bearing.
Friction pins are precision-ground products made from hardened tool steels. They have an inside diameter that is slightly smaller than that of the guide bushing, and they are designed to prevent die shoes from moving laterally. Most guide bushings are made from or lined with aluminum-bronze or other wear-resistant materials.
Ball bearing-style die sets ride on a series of ball bearings that are housed in a ball cage. They allow the die to run at faster speeds without incurring higher levels of heat and friction and provide operators with a relatively easy way to separate the upper and lower die shoes.
Specifications
Die sets include components called:
heel blocks
heel plates
screws
dowels
keys
Heel blocks are made of steel and attach to both the upper and lower die shoes. These die set components have sturdy wear plates to absorb one-directional side thrust that could cause misalignment. Heel blocks have steel heel plates and, on the opposite shoe, a plate made of a different metal. Screws, dowels, and keys are also used with die sets. Screws secure the working components to the die shoes. Dowels locate the die section in the proper die shoe location. Keys are small blocks of precision-ground steel that are inserted in keyways. They are designed to locate heel components and die sections. Ball bushing and flange mounted die sets have similar specifications. Ball bushing die sets carry specifications such as bore diameter, bore tolerance, outside diameter, pilot diameter, pilot length, clamp diameter, overall length, bolt circle diameter, mounting hold diameter, dynamic load capacity, temperature range, material, finish, and color. Flange mounted die sets carry product specifications for bore diameter, bore tolerance, barrel diameter, head length, pilot diameter, and pilot length, flange diameter, flange thickness, overall length, bolt circle diameter, bolt size, angular misalignment tolerance, static load capacity, temperature range. Both ball bushing die sets and flange mounted die sets are designed for use with shafts and shafting.
Image credit: