Textile Machines Information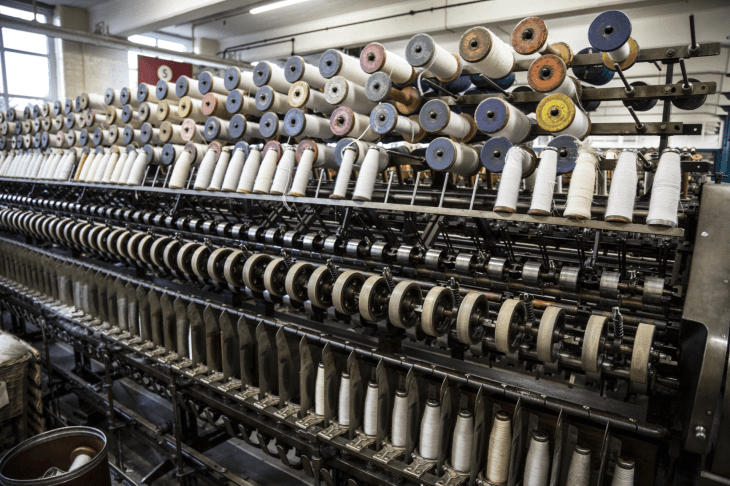 Textile machines are used in the fabrication and processing of fabrics, textiles, and other woven and non-woven materials. They are used in processes such as spinning, weaving, warping, and dyeing. Textile equipment can be used to manufacture, dye, and finish materials such as fiber, yarn, and thread. They are also used for the extrusion of non-wovens, synthetic fiber, and various plastics.
Types
Textile machines include devices such as:
balers
draw frames
fabric cutters
calenders
dyers
dryers
padres
extruders
conveyers
die presses
For winding operations, textile machinery includes ballers, doublers, and winders. Textile apparel equipment includes cutting and finishing machines, embroidery machines, and sewing machines. Other types of textile machines and textile equipment are also commonly available.
Materials
Textile machines are used to process natural fibers such as silk, wool, and cotton, or with artificial fibers such as polyester, nylon, and polypropylene.
Features
Purchasers of textile machines can use web-based locator services to buy or lease new or used textile equipment. A textile machinery dealer or textile manufacturer can belong to trade associations such as the Machinery Dealers National Association, the American Textile Machinery Association, or the Association of Machinery and Equipment Appraisers (AMEA). ATMA® is a registered trademark of the American Textile Machinery Association. Suppliers of textile machines and textile equipment are located across the United States and around the world.
Standards
A textile machine manufacturer may adhere to standards maintained by the International Organization for Standardization (ISO) Technical Committee 72 (textile machinery and accessories), including ISO 11111 (safety requirements for textile machinery). Organizations that need to buy a used textile machine can also refer to ISO 13374, which provides guidelines for developing machine condition-monitoring systems and end-users who desire plug-and-play machinery condition-monitoring software and information compatibility. Textile machinery is also covered by ISO Technical Committee 184 (industrial automation systems and integration).
Related Information
Electronics360—Power Textile Generates Electricity from Wind and Sun
Engineering360—Textile Generates Power from the Sun and Motion
IEEE Spectrum—Agility Robotics Introduces Cassie, a Dynamic and Talented Delivery Ostrich