Tube Mills and Pipe Mills Information
Tube mills and pipe mills produce tubes and pipes of various configurations. They serve to deliver a material uncompromised between endpoints. Their shape and materials provides inherent resistance to compressive force, meaning they are optimal for delivering flowable media (e.g. water, gas) through hostile environments without risking contamination. Pipes and tubes are also effective for routing conduits such as wires or rope.
The integrity of a piping and tubing also makes them key structural elements when manufacutred for that explicit purpose. They are commonly integrated as load-bearing beams, can be used to assemble temporary structures such as scaffolding, are effective as handrails, guardrails, and flag poles, and even earn niche jobs such as a fireman's pole.
Manufacture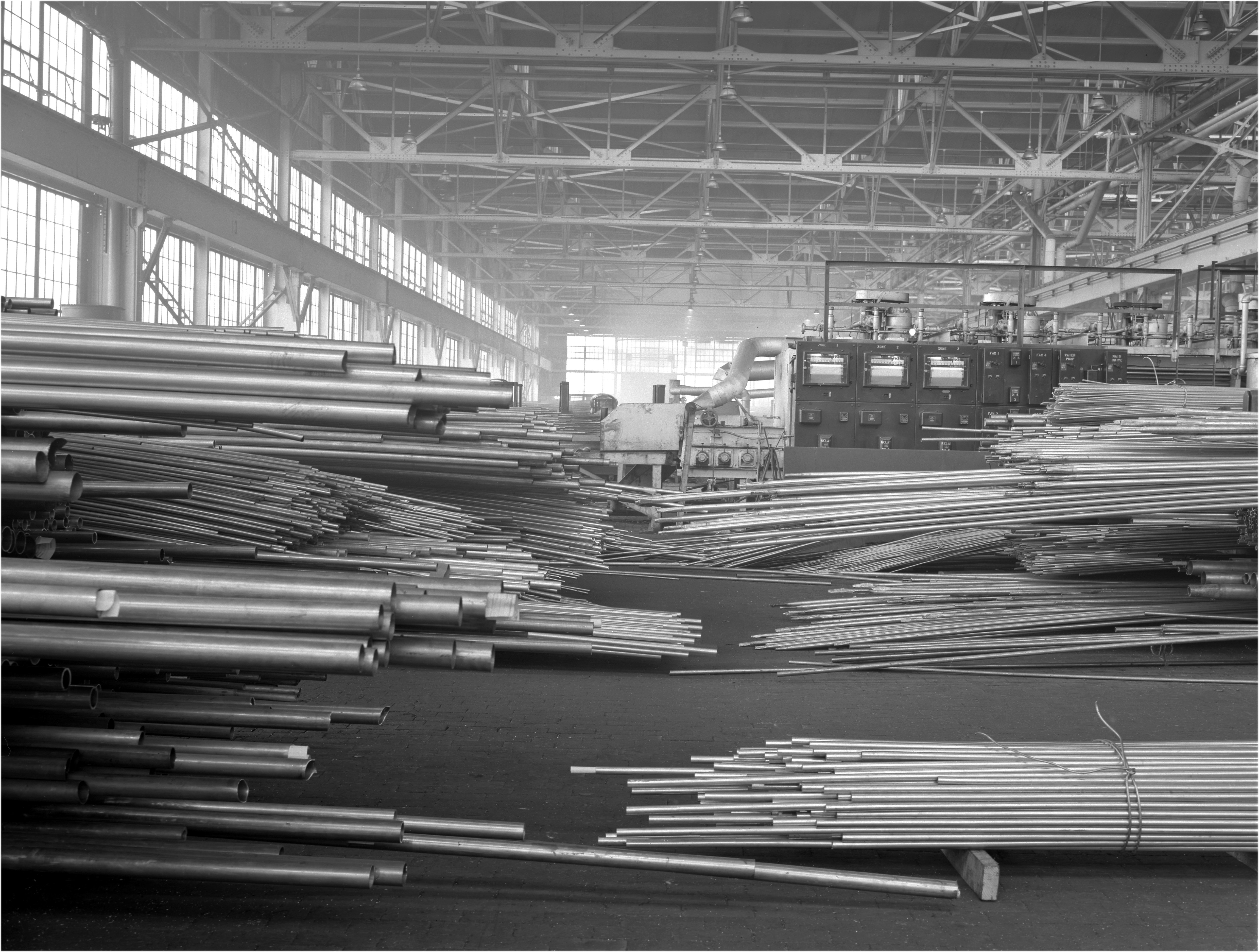 These products are fabricated in tube and pipe mills via welding or seamless technology, depending on the operational requirements. Raw materials are formed into solid round bars known as billets or rectangular steel slabs known as skelps, and are then processed using distinct techniques, such as electric resistance welding (ERW) and submerged arc welding (SAW).
The primary methods to manufacture steel pipes and tubes have existed for hundreds of years, but modern mills benefit from advanced monitoring equipment and technologies. Today's producers focus on mill efficiency and product quality, considering important factors such as sizing, hardness, material edging, and tooling.
A key objective is eliminating ovality. This is achieved by heating only the edges, which in turn requires a controlled amount of weld power. Other significant challenges include faster line speeds and reduced mill staffing, while also integrating larger ratios lightweight and unconventional materials.
Monitoring and inspection equipment are crucial to quality assurance. Typical devices include eddy current or ultrasonic monitoring systems, flux leakage detectors, and optical or laser sensors. Integration of the equipment drives improved automation and control of the processes.
Techniques
Tube mills and pipe mills employ two unique methods that form seamless and welded structures from an extensive selection of materials, both ferrous and nonferrous. Mills are classified according to the nature of the output, technique or materials. For instance, ERW (electric resistance welding) mills rely on the ERW welding, while plasma, LASER and TIG (tungsten inert gasses) mills on autogenous welding.
An array of welding styles enables the production of tubes and pipes, such as:
Fusion welding: Also known as continuous welding, this process starts with coiled steel of a suitable width and thickness. Coils are welded from end-to-end to create a continuous steel ribbon. The ribbon passes through a leveler followed by a gas furnace and is heated to a temperature necessary for forming and fusing. Rolls positioned at the end of the furnace mold the heated skelp into an oval shape. The rolls then firmly press the edges of the skelp to create a weld. At the final sizing stage, rolling equipment molds the pipe to its indicated dimensions.
Seamless piping: Pipes and tubes without seams are formed by pushing and pulling a rapidly rotated billet of steel over a mandrel fixed with a piercing point in the middle. Once a hollow shell is made, further finishing is performed until it is correctly sized. The standard seamless design features heavy wall thickness of short lengths and is suitable for coiled, flanged, and threaded treatment. It is an expensive product and exists in a limited supply.
Electric resistance weld (ERW): These joints are generated through forge welding. The method uses a coiled steel plate of appropriate width and thickness. The final ERW output is cold formed. The ribbon of steel is fed through a series of rollers and shaped into a cylindrical tube. As the opposite edges of the cylindrical plate meet, they are welded together through the application of an electric charge. ERW welding facilitates the delivery of pipes and tubes at high speeds for mass production, though it may have long lead times. The approach offers consistent wall thicknesses and overall sizing dimensions covering a wide range.
Submerged arc welding (SAW) and double submerged arc welding (DSAW): The technique submerges a welding arc in flux during the welding operation. The flux shields steel in the treated area from impurities present in the air during the procedure. When inside welds and outside welds take place, welding occurs in separate events. In such instances, the pipe is called double submerged arc welded (DSAW).
The DSAW method produces three main types of structures:
U and O: Cylinder forming is accomplished using a "U" press followed by the "O" press from long plates of applicable size and grade. Cylinders are welded both inside and out through the submerged arc approach to engage up to five welding wires. The procedure is performed via cold expansion based on either mechanics or hydraulics. Cold expansion gives DSAW added yield strength and superior quality. These pipes are common in the transmission of gas and oil.
Rolled and welded: Sometimes called a pyramid roll method, the system combines three rolls set up in a pyramidal structure. A plate of a given grade and thickness is rolled between the pyramid rolls to create a cylinder. The cylinder is then transported to welding stations. Products of this category are supplied in minimal quantities without long lead times. It features sizable diameters and exceptionally thick walls. Due to its girth, welds of such type of pipe have a slow rate of manufacturing and a high cost.
Spiral weld: Structures made with this process have a DSAW seam running its full length in a spiral form. The angle of the de-coiled steel relative to the forming head determines the outside diameter of the pipe. A sharper angle results in a greater diameter. Producing sizable, hot-rolled coils with sufficient width allows the pipes to serve in demanding applications.
Applications
Tube mills and pipe mills serve an array of industries and applications, including:
Electrical conduitGas transmission

Liquid transportation

Oil and gas drilling

Irrigation

Structural tubing

Petrochemical pipe

Medical

Hydroform tubing

Mechanical tubing

Exhaust pipes
Materials
Tube mills and pipe mills rely on steel as their primary raw material. Steel is mainly comprised of iron. Other materials present in the steel alloy may include:
Aluminum

Manganese

Titanium

Tungsten

Vanadium

Zirconium
Standards
Products made by tube mills and pipe mills are subject to a variety of standards, including:
API SPEC 2B — Specifications for the fabrication of steel pipe
DNV-OSS-313 — Pipe mill qualifications
DIN EN 13675 — Safety of tube forming and pipe milling equipment
Image credit: