Tolerance Rings Information
Tolerance rings are radially sprung rings that fit between two mating components to act as frictional fasteners. Applications include bearing mounting, rotational fastening, and torque transfer. They are often used with bearing housings, pump and motor shafts, and shafts and gears.
Operation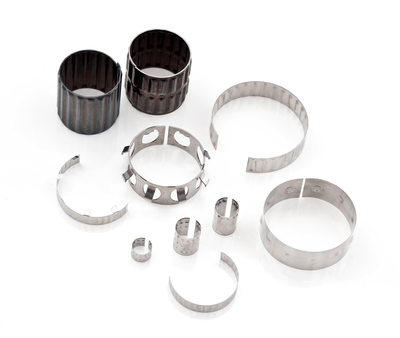 The primary function of a tolerance ring is to secure two mechanical objects using compression due to the waves, or corrugation in the ring. It can also provide thermal expansion and compression tolerance of these mechanical objects. These metallic rings rely on the corrugation dimensions and hardness of the material to provide the proper amount of force to keep the mechanical components fastened.
Configurations
Tolerance rings are commonly made of stainless steel or spring steel with a varying hardness of the metal. The most prominent component of a tolerance rings are the waves or corrugation dimensions.
Specifications
The follow specifications determine the functionality of a tolerance rings.
Installation: the tolerance ring can be mounted on the shaft or in the bore.
Material: the material of the ring can be stainless steel, spring steel or specialty material.
Corrugation dimensions: the height, width, and thickness will determine the effectiveness of the tolerance ring.
Resources
USA Tolerance Rings - How tolerance rings work