Mud Cleaners Information
How to Select Mud Cleaners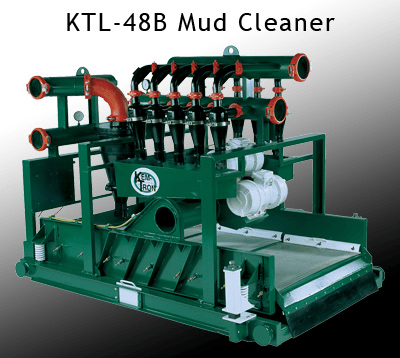 Image Credit: GN Solids Control | Kemtron
Mud cleaners are two-stage solids control equipment that are composed of several hydrocyclones mounted over a vibrating screen, known as a shale shaker. Mud cleaners are used to remove solids from drilling fluid and act as 2nd and 3rd phase solids control equipment.

Mud cleaners are used to remove drill cuttings from drilling fluid, known as mud. The mud is a non-Newtonian fluid of variable viscosity that serves several purposes in drilling operations. Mud is used to drive the down-hole motor, cool the drilling bit, carry the drill cutting to the surface for disposal, and maintain hydrostatic balance in the well.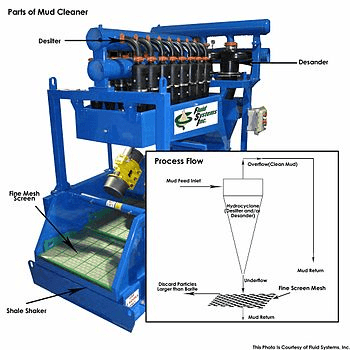 The mud cleaner is designed to remove the drill cuttings while allowing the weighted fillers of the mud, commonly barite, to stay suspended in the mud. The cuttings, consisting of solids greater than 74 to 105 micrometers, are filtered out in the staged process of the mud cleaner.

The first-pass solids control devices of the mud cleaner are the hydrocyclones which are mounted over the vibrating screen of the shale shaker. Several hydrocyclones are used to increase the flow rate of the mud. There is also a combination of varying sized hydrocyclones. Smaller cones, typically 4" in diameter known as desilters, remove finer silt sized solids, while the larger cones typically 10" in diameter known as desanders removed the coarser sand sized particles.

The vibrating screen of the shaker is sized for the specific drilling operation. Lighter muds with lower solids content would use a finer screen while drilling fluid with higher solids content, known as weighted muds, would use a slightly coarser screen in order to ensure that the weighted fillers are not filtered out of the mud.

Resources:
Mud Cleaners - High-efficiency solids removal, fluid preservation technologies