Oil Derricks Information
Oil derricks are load-bearing structures used to support and position a drill string over an oil well. They are considered permanent structures and are typically used in offshore drilling applications. Most derricks take the form of a tall tower which extends above drilling operations. A crown block, the stationary section of a block and tackle, sits on top of the derricks connecting the load of the drill string to the support structure.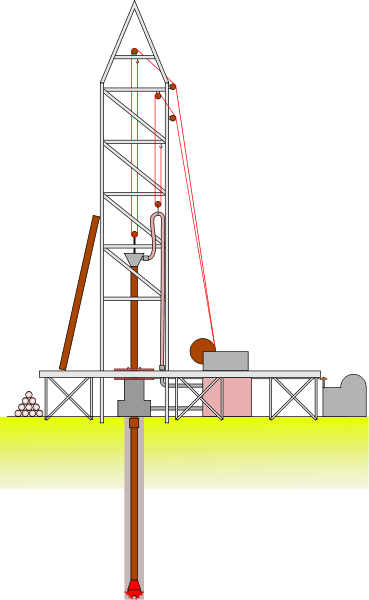 Oil derrick schematic. Image credit: Wikipedia Commons
Types
Oil derricks are manufactured to suit a particular rig operation such as jack-ups, platforms, semi-submersibles, or drill ships. Types of derricks include basket, breast, gin pole, guy and stiffleg.
Specifications
Common derrick specifications include:
Height
Maximum sustainable wind speed
Maximum load
Base square footage
Standards
API SPEC 4F – A specification by the American Petroleum Institute (API) that states requirements and a uniform method for rating steel structure used for drilling and well servicing operations.
Image credit: