Network Video Recorders Information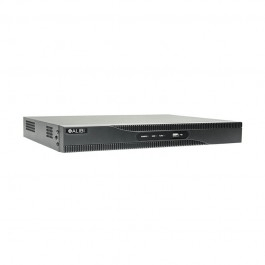 Network video recorders (NVR) are internet protocol (IP) based devices that are connected to a network and used for the simultaneous recording and remote access of live video streams from IP cameras. The main application for a network video recorder is IP video security / surveillance systems. NVRs can only be used with digital IP cameras while analog security cameras use digital video recorders (DVR).
The primary function of NVRs is to manage, access, and control IP video systems. The embedded software that is generally incorporated into the NVR allows the user to manage the numerous cameras of the system as well as allowing the user to control each camera with the various features of the NVR. The NVR has a set number of independently controlled channels, allowing the various settings and features of the camera and NVR to be different per channel. Each camera of the system can have different recording modes/triggers, recording rates, and resolutions which are dependent on the camera's location. An internal hard drive stores the recorded video which the software can access to manage or view the recorded videos. The size of the recorded video depends on the resolution and frame rate at which the camera is set to record.
Specifications
Specifications of NVRs include maximum storage, number of channels, recording bit rate, and recording resolution.
Maximum storage is the data capacity of the NVR. Multiple hard drives allow higher capacity.
Number of channels is the number of cameras the NVR is capable of managing.
Recording bit rate is the speed of the incoming and outgoing data.
Recording resolution is the quality of video the NVR is capable of recording.
Features
Features of NVRs include advanced analytics, multiple recording modes, PoE (power-over-ethernet) network switches, PTZ (pan-tilt-zoom) camera controls, remote configuration, trigger based recording, and video compression. The features of an NVR allow the user the flexibility to manage and control the system to fit the desired application.
Advanced analytics is integrated software that allows the user of the system to analyze the recorded video.
Multiple recording modes include continuous, event, motion, alarm, smart, time periods, or point-of-sale (POS).
An integrated PoE network switch allows the camera to be powered by the Ethernet cable instead of having to be powered by a separate power cable.
PTZ camera control allows the user to control PTZ cameras from the NVR software.
Remote configuration allows the user to configure the NVR remotely though an application or network.
Trigger-based recording allows the system to be configured to start recording when the specified situation is present such has alarm, movement, or scheduled times.
Video compression reduces the size of the recorded video to a compressed file.
Resources
Supercircuits — Network video recorders
Image credit: