About


Innovating to Give Customers a Competitive Advantage
Innovation. It defines Analog Devices, Inc. (ADI). We earn our reputation by designing innovative ICs that give our customers a competitive advantage. Whether it's ADI's converters and amplifiers making medical diagnosis equipment more accurate, an ADI accelerometer keeping drivers safe using automotive stability control electronics, or even ADI technology helping to measure and monitor temperature, pressure, and other metrics in the factories where electronic equipment is made—our commitment to innovation, combined with our unmatched expertise, is what makes a difference for customers.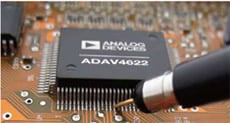 Our people are at the heart of this innovation. We employ thousands of engineers motivated and committed to solving the challenges that our customers face. Our people are a powerful differentiator that makes Analog Devices a chosen partner to help our customers get to market faster with winning products.
Throughout our R&D, applications engineering, support, and manufacturing systems, we are focused on a singular mission—to be the very best signal processing company in the world by designing innovative products that create a competitive advantage for our customers.
Supplier Directory Categories
Analog Devices, Inc. is also listed in these categories: