About
Prevent prolonged exposure to excesive noise in manufacturing, power generation, printing and other industries. With less noise pollution you will see many benefits including:

Lower insurance rates
Lower work-related accidents
Better on-site verbal communication
Less fatiuge
Increase productivity
Decrease work-related hearing loss
Noise Control and Soundproofing for Architects, End Users, Engineers, Consultants and Contracting Firms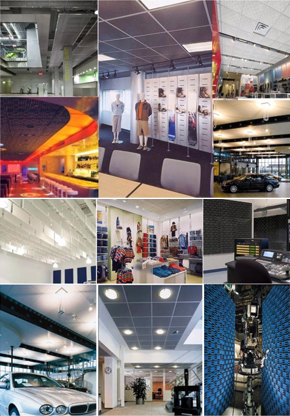 Let ArtUSA Noise Control Products be your partner on your next noise control application. You can rely on ArtUSA Noise Control Products to provide you with the in-depth technical expertise necessary to select the most appropriate noise control products and designs for your application. They'll work with you as the project unfolds, in the early stages of planning, specification writing and budget costing to ensure that your and the Owner's requirements are met. With ArtUSA Noise Control Products as your design partner, you can be sure of providing your client with the most appropriate plans and specifications for a wide variety of industrial noise control, soundproofing and acoustical solutions.
ArtUSA Noise Control Products, Inc is leading the nation in cost effective Noise Control, Sound Enclosures and Soundproofing Systems. Their production facilities can handle projects of any size and scope, while maintaining high quality standards. They offer complete design, engineering, fabrication and installation capabilities for all of their products. They also represent some of the top manufacturers in the noise pollution and environmental industry today, allowing them to be your single source supplier Industrial Noise Control is their passion.
Their goal at ArtUSA Noise Control Products, Inc. is to help companies improve their products and work place environments by providing the best standard and custom designed products for controlling noise, splash, chips, mist, dust, smoke, water and other in-plant pollutants. For retrofit applications and original equipment design and fabrication, they can engineer a cost effective noise control and air quality solution. They are the noise pollution solution.
Industrial Noise Control
Industrial noise control is a growing concern in factories, industrial sites, manufacturing and mining facilities. The goal for industrial noise control is to promote hearing conservation while reducing noise levels for personnel to protect employees from hearing loss and increase industrial safety within the facilities. Companies are required to comply with industrial safety noise levels within OSHA or other governmental or insurance agency requirements. More info on ArtUSA Industrial & Manufacturing Noise and Sound Control
Enclosures and machinery enclosures are a very common treatment for industrial noise control requirements. Acoustical Solutions custom fabricates all of their industrial enclosures to meet the requirements of the environment that it is going into. The acoustical and machinery enclosures are typically made from sound blankets. These are very durable vinyl quilted blankets that can be suspended or floor mounted to form any type of industrial enclosure. Metal machinery enclosures are also available. their removable acoustic steel sound enclosure specifically for noise attenuation for PD Blowers (Positive Displacement Blowers).
ArtUSA's sound enclosure is designed if your specification is needed for below 85 dBA (decibels), a community property line concern, or any other high level of sound reduction. their sound enclosures for PD Blowers have measured 60-80% quieter during before and after equipment installations. Features include an independent frame system, removable, modular acoustic steel panels, silenced air intake and exhaust fan. Company's such as Dresser, Roots, Gardner Denver have utilized their blower package sound enclosures for their rotary positive blower. Their sound attenuation cabinet offers flexibility to remove panels with quarter-turn retainers. All these features create easy maintenance and durability over time for ArtUSA Noise Control Products' sound package.
Supplier Directory Categories
ArtUSA Noise Control Products, Inc. is listed in these categories: