About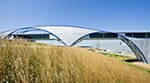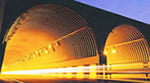 Big R Bridge specializes in the design and supply of value-engineered solutions in Prefabricated Bridges, Structural Plate Bridges, Retaining Walls, Abutments, Sound Barrier Walls and Corrugated Pipe. We serve the transportation, public works, railway, mining, forestry and development sectors.

We've been supplying prefabricated bridges and custom engineered products across America for more than 45 years. We've handled more than 10,000 installations to date and manufacture over 300 bridges a year. All of our products are custom engineered to site conditions, and we excel in handling tough challenges. Along the way we've developed an approach that can save you and your clients money.

We have the in-house capability to provide design, engineering and fabrication on an accelerated schedule:

• An engineering team licensed in 49 states and growing, 4 Canadian provinces and growing
• Over 20 bridge solution professionals to serve you
• Nationwide shipping from our centrally located plants in Colorado, Texas and Virginia
• Facilities with the capacity to supply large, complex projects

Big R Bridge has built a solid 45-year reputation for providing value in innovative steel bridge solutions and professional support throughout the United States. Strong, yet lightweight, Big R Bridges are pre-engineered and prefabricated to ship and install quickly with local crews and equipment. Whatever your requirements, Big R has the right bridge for you.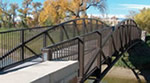 Signature Bridges make a bold, architectural statement.
More than just bridges, Signature Bridges make bold architectural statements as community focal points. And, with Big R Bridge as your design-build partner, they are both distinctive and affordable. Think outside the box, with Big R Bridge.
Pedestrian Bridges keep communities connected with style.
Big R's custom-designed bridging solutions can be tailored for today's pedestrian and leisure needs. From the smallest trail bridge in a park, to expansive pedways over transportation corridors, we have your Pedestrian Bridge solutions.
The Tunable Bridge™ is a structural hybrid with spans up to 400'.
The Tunable Bridge™ has adjustable, dual-truss-and-tied-arch design that can "tune" live and dead loads between the two systems. Better looks. Lighter weights. Longer spans. Long story short, you save time and money.
Vehicular Truss Bridges offer traditional styles in spans up to 240'.
Big R's vehicular truss bridges offer a prefabricated solution to meet spans up to 240' and are ideal for counties, cities and other government agencies who desire a highly functional vehicular bridge with old-style aesthetics and architecture.
Vehicular Modular Bridges are economical solutions for spans up to 150'.
As the name suggests, these bridges are manufactured and shipped in modular sections that allow for rapid installation. They can be placed in one day, reducing installation costs and road closure time. We also offer Portable Detour Bridges.
Supplier Directory Categories
Big R Manufacturing LLC is also listed in these categories: