About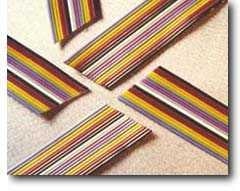 Calmont Wire & Cable, Inc. manufactures precision wire and cable for demanding applications for a broad range of industries such as biomedical, aerospace, instrumentation, military and many others requiring a unique and custom design. Calmont specializes in wire and cable that is ultra-flexible and micro-miniature.

Total Custom Capability
Calmont's experienced engineering staff will work with you to develop your technical requirements. They will determine the ideal conductor insulation, shielding and jacketing from their tremendous array of options. Their highly trained personnel are among the finest in the industry, and their experience allows them to solve the toughest and most demanding problems.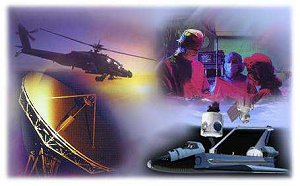 Prototype to Production
Their In-Plant capabilities allow them to quickly evaluate and develop the most cost/effective approach without compromising performance and quality. After testing and approval, they are able to implement full production runs with the fastest possible lead time, and when they give you a delivery date, you can count on it. In an industry dominated by long lead times and huge minimums, Calmont is distinctively superior.
Calmont Flexibility
Whatever your application, whenever unusual high performance wire or cable is needed, call them. With their experience, chances are they have done it; if not, they will totally commit their engineering and manufacturing capabilities to your needs.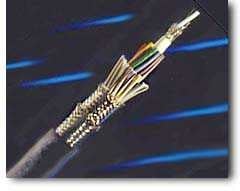 Total Quality
Total control and complete testing assures your wire and cable will meet your exacting specifications whether it is a customer driven, UL, CSA or a Mil-Spec requirement. Their Quality Control Lab is committed to quality . . . total quality for you.
Total Commitment
One call to Calmont and you'll know why they are the leader. They are truly committed to providing outstanding premium-quality products, committed to keeping delivery times and committed to serving you. Put there experienced engineering and manufacturing resources to work for you. Many of the world's largest corporations already have.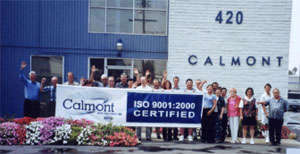 ISO 9001:2000 Achievement
Calmont Wire & Cable is proud to announce that it had successfully passed the audit to the new ISO 9001:2000 quality standard. In recognition of this prestigious accomplishment, all the employees of Calmont posed for a photograph supporting a banner that attests to this achievement.
Supplier Directory Categories
Calmont Wire & Cable, Inc. is listed in these categories:
Technical Articles

Types of Conductors
(Wire and Cable)
Many materials are used to transmit electrical energy, but those most frequently specified for types of conductors are copper, copper-covered steel, high strength copper alloys, and aluminum. For more... (
View Full Article
)