About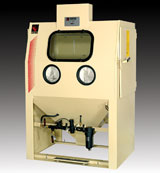 Empire has specialized in the design and manufacturing of air blast equipment for over sixty years. Today, they produce the most extensive line of pneumatic blasting equipment in the industry.

Empire has earned their reputation as a leader in air-blast technology by developing products that meet both specific and general customer needs, and they have the best warranty in the industry.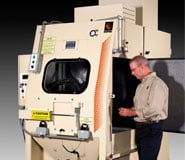 Empire's blast cabinets are equipped with a wide range of factory options to support the most production requirements with zero cost for custom engineering. Empire usually has what you need "right off the shelf."

If specialized accessories are needed for material handling, partial automation, or special part configuration, Empire has an entire division devoted to creating the right machine to meet your demanding needs. They even have the capabilities to manufacturer robotic blast systems. Their regional sales managers, product managers and engineering department will work with you to develop the most productive solution to your individual blasting problems.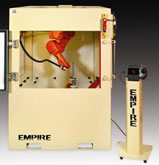 The same philosophy and engineering expertise apply to all Empire products. Their portable blasters incorporate seemingly small time and maintenance saving features that add up to substantial profit increases over extended use.

Empire's blast room division works with you to design the most efficient blast room for your particular needs. They can design and build simple sweep in floors to fully automated screw recovery floors.

Empire has the largest distribution network worldwide to support all of their customers' requirements. They also have the most modern testing laboratory for doing sample blasting. Testing is performed in hand cabinets and automated systems so that you can see what your blasted part will look like and they can help establish production rates. With a staff of over 200 years' experience in the industry, Empire has the solutions to your challenges.
Supplier Directory Categories
Empire Abrasive Equipment Company is listed in these categories: