About
FARO designs, develops, and markets portable, computerized measurement devices and software. The Company's products empower manufacturers to perform 3D inspections of parts and assemblies on the shop floor. This helps eliminate manufacturing errors and increase productivity and profitability.
The driving force behind FARO's success is its mission: enabling its customers' products and processes to be the best in the world by providing them with the ability to simplify their toughest measurement challenges. This is achieved by offering products that are reliable, accurate, and easy to use. Whether you need to create virtual models - or to perform evaluations against an existing model or part - FARO helps you design it better, build it smarter, and get it out the door faster.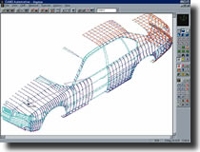 Principal products include the world's best-selling portable measurement arm - the FaroArm; the world's best-selling laser tracker - the FARO Laser Tracker; the FARO Laser ScanArm; the FARO Laser Scanner; the FARO Gage; and the CAM2 family of advanced CAD-based measurement and reporting software.
FARO is ISO-9001 certified and ISO-17025 laboratory registered.
Supplier Directory Categories
FARO Europe GmbH & Co. KG is also listed in these categories:
Technical Articles