About
G.A. Murdock, Inc. is a provider of high-quality water purification and installation supplies for the water conditioning, beverage, hydroponic, aquarium, agriculture, dialysis, and misting industries. The business was founded in 1987 and has grown to be a convenient, fast, and reliable supplier for everything from fittings and testing instruments to filters and reverse osmosis membranes. The company also supplies products to OEMs.



In addition to the large selection of water conditioning products available from G.A. Murdock, the company has also developed the Mur-lok® brand of fittings, valves and tubing to solve common installation problems. All Mur-lok® products are manufactured in the USA using state-of-the-art automated equipment and have been engineered for improved performance and durability.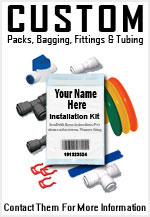 G.A. Murdock can also build custom and semi-custom solutions, such as:
custom-labeled packaging
custom-labeled and custom-sized tubing or pipe
custom-selected products packaged as kits
custom colors for fitting components and tubing
Contact the company at 605-256-9632 for detailed information on custom solutions.
G.A. Murdock, Inc. has been a member of the Water Quality Association (WQA) since 1992.
Supplier Directory Categories
G.A. Murdock, Inc. is listed in these categories: