About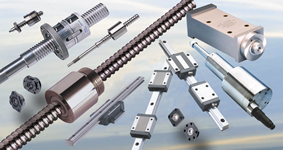 Jena-Tec is a company dedicated to supplying high quality precision ballscrews, linear rail guides, spindles, tool post grinders, precision rotary tables and a wide range of precision products and accessories for linear and rotary motion solutions. Not only does Jena-Tec manufacture and warehouse an extensive range of stock products, but Jena-Tec can design, engineer, reverse-engineer, repair and refurbish these products to their customers' specifications.
Jena Tec is a proud part of Avingtrans plc engineering technology group.
The products supplied by Jena-Tec are used in the automotive industry, precision technology industry, in medical and robotic systems and many other technical applications.
| | |
| --- | --- |
| | Precision Ballscrews - A wide range of precision ground, rolled and whirled ballscrews with rapid manufacturing service in which shafts can be cut to length, turned, ground, machined and/or assembled to customers' specifications. Immediate delivery available on stocked unmachined shafts and soft-flange ballnuts. Reverse engineer capabilities from sample or print and direct contact support from Jena-Tec engineers. |
| | Linear Rail Systems - High performance yet economical profile linear rail guides and blocks stocked for immediate delivery. Using an advanced return system ensuring smooth running and low noise, Jena-Tec's Linear Rail range offers a variety of precision grades and lengths, with options such as maintenance-free and anti-corrosive coatings. |
| | Support Units - Available in both flange and base mounting configurations, and for both fixed-sided and support-sided bearing assemblies, the Jena-Tec bearing Support Units are ideal in light load and small equipment applications, providing a clean, low-dust mounting system of ballscrew shafts to machines. |
| | Tool Post Grinders - Jena-Tec's cost effective range of Duplex Post Grinding systems offers users a greatly expanded capability to adapt existing plant equipment to have grinding capabilities. External, Internal or Dual-Use systems are able to cope with a variety of sizes and bore depths, where precise tolerances can be acheived. |
| | Special Purpose Spindles - Jena-Tec can improve your existing spindle or retrofit a new unit into your existing machine. Whether you are looking for increased speed, power, reliability or even more tooling commonality between different machines, Jena-Tec can design a spindle to your specifications. |
| | Precision Rotary Tables - Highly accurate rotational motion in either manual or CNC mode, Jena-Tec's Precision Rotary Tables allow large sizes and heavy loads to be rotated with minimal effort. Ideal solution for rotary grinding of bearing spacers and other applications where constant surface finish is important combined with accurate parallelism. |
| | Heavy Duty Ballscrew Linear Actuator series - Developed to provide a strong, durable, and precise ball screw linear actuator for high-end applications. While other actuator designs force a particular motor decision, the Jena-Tec HD is designed to suit virtually any motor, gear box, or gearhead the customer chooses to use. In-line as well as parallel offset configurations are standard with 1:1 and 2:1 synchronous gearbelt ratios available. |
Supplier Directory Categories
Jena-Tec, Inc. is listed in these categories:
Technical Articles

Principles of Ballscrew Repair
(Bearings and Bushings)
What exactly does happen to a ballscrew when it fails and what are the principles and procedures to repair a ballscrew from a company such as Jena Tec? The most frequent cause of failure of a... (
View Full Article
)