About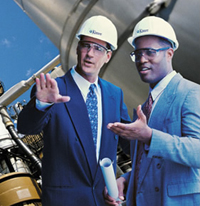 Kimre, Inc. began offering air pollution control products to the chemical processing industry in the early 1970's in order to improve the performance of existing, outdated technology. The engineering expertise used to design the unique patented structure offered by Kimre has grown into an extensive knowledge base of the requirements of all sectors of the chemical processing industry in regards to air pollution control and process optimization. Kimre™ is dedicated to nurturing an organization rich in practical technical experience; the majority of Kimre's professional staff has a background in Chemical Engineering with masters' degrees.
Kimre™ has grown into an important part of the world community by offering innovative, cost effective solutions in diverse applications in air pollution control, gas cleaning functions, and liquid cleaning functions. Kimre's main sales headquarters and manufacturing plant are located in Miami, Florida. Kimre's European customers are serviced through Kimre Europe™ out of Belgium through a sales office and second manufacturing site. In addition, many of their Asian-Pacific customers are serviced through distributors experienced in the final processing and fabrication stages of Kimre products.
Kimre™ Technology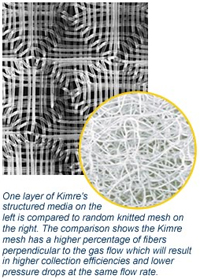 The introduction of Kimre™ patented high-performance, interlaced mesh structure revolutionized the technology of process fluid separation and air pollution control. This unique, innovative concept is far superior to the usual tower packing, chevrons, and mesh pads used for mass and heat transfer, particulate removal and mist elimination. As a result, industries around the world have increased production, reduced energy and maintenance costs, and reduced emissions to comply with ever more stringent air and water pollution control standards.
The Kimre™ interlaced mesh structure is simple, yet surprisingly effective. The basic structure of the mesh forms a ladder-like arrangement of thermoplastic filaments, forming double-V systems that intersect each other at right angles. The engineered mesh construction has a large surface area and void space. The choice of filament diameter and the physical arrangement of mesh layers optimize the effectiveness and range of solid or liquid particle removal. A variety of thermoplastic filament materials allows for continuous service from -320° F to 400° F (-195° C to 204° C). The thermoplastic media eliminates problems associated with corrosion, contamination, and erosion. The lightweight material is flexible, offers exact fit and is easy to install, remove, and maintain.
Kimre™ offers a range of products, all based on its unique media that effectively removes solid and liquid particles below one micron while draining large volumes of liquid. Kimre products are so effective they make traditional tower packing and metal pads obsolete.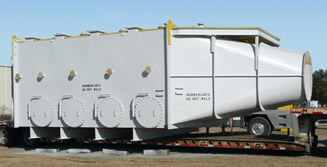 Kimre Systems® mass transfer & absorption systems are designed to meet the client's specific needs; based on Kimre's unique interlaced KON-TANE® scrubber & tower media & B-GON® mist eliminators. These effectively remove effluent gas stream solid and liquid contaminants, rendering traditional tower packing and mist eliminators obsolete.
Kimre Systems SXF™ Semi-cross-flow Contactors provide the best solutions for both new and upgraded facilities, reducing emissions and increasing product recovery. Their AEROSEP® Multi-stage Aerosol Separation systems provide low pressure drop particulate removal to under 0.3 microns.
Trade Name

Description

KIMRE™ Technology
Phase Separation Technology
B-GON®
Mist Eliminators
KON-TANE®
Scrubber and Tower Packing
AEROSEP®
Multi-Stage Aerosol Separation Systems
SXF™
Semi-Cross Flow Contactors, Absorbers & Scrubbers
DRIFTOR®
Drift Eliminators for Cooling Towers
LIQUI-NOMIX®
Liquid/Liquid Coalescer Pads
PANTS HANGER™
(Kimre)™ Media Holding & Support System
BATTEN BAR™
(Kimre)™ Media Holding System
GLSSM Green Light Service
Urgent Status Media Production and Shipment


B-GON®, KON-TANE®, AEROSEP®, DRIFTOR®, and, LIQUI-NOMIX®: Are registered trademarks of Kimre, Inc., USA

Kimre™, KIMRE™ Technology, SXF™, PANTS HANGER™, BATTEN BAR™, GLSSM , and, GLSSM Green Light Service; are registered trademarks or service marks of Kimre, Inc., USA.
Supplier Directory Categories
Kimre, Inc. is listed in these categories:
Technical Articles

An Efficient Scrubber
(Air Quality)
Horizontal crossflow scrubbers using Kimre Inc's monofilament pad material have been in successful service at a Brazilian NPK plant for 21/2 years. They are cheaper both to install and to run than... (
View Full Article
)

Basics of Mist Elimination
(Air Quality)
Mist eliminators have evolved over the years from packed bed types to knitted mesh mist collectors. Knitted mesh mist eliminators achieve much greater efficiency than the packed bed types where dumped... (
View Full Article
)