About
KineSeal Zhangjiagang LLC is a professional manufacturer of mechanical seals located in Zhoujiaqiao Industry Zone Zhangjiagang City Jiangsu province China. Kineseal is certified to ISO9001-2008 quality management system by BSI (British Standards Institution).
KineSeal designs, manufactures, sells, services and repairs their complete line of mechanical seals and related devices worldwide. The extent of their capabilities is demonstrated on their website and includes:
boiler feed circuit seals
cartridge seals
component seals
high performance seals
low emission seals
metal bellows

mixer seals
slurry seals
standard chemical pump seals
Fluid Control Equipment
and materials as Silicon Carbide, Tungsten Carbide, PTFE etc.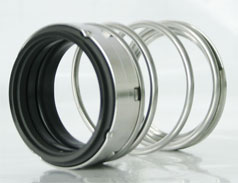 KineSeal designs their seals to work within prominent markets such as: petrochemical processing(API682), Chemical Industry, Mining and ore processing industry, Municipal water supply / water and wastewater industry, Pharmacy industry, Pipeline transportation, Power Industry, and Pulp and Paper Industry. Currently, KineSeal exports the above mentioned products to 30+ countries such as USA, Canada, Germany, France, Australia, and South Africa.
CNC machines assure all products feature high quality and faster speed. If you have any question please do not hesitate to contact them. KineSeal is waiting for you to be their customer.
Supplier Directory Categories
Kineseal Zhangjiagang LLC is listed in these categories: