About
About Critical Cleaning
MicroCare is a world leader in precision cleaning. Examples of critical cleaning are found on today's high-end electronics, medical devices, aerospace, oxygen systems, fiber optic systems, and military weapon systems. Obviously, in these applications the cost of the cleaning process is insignificant compared to the urgency of the results: making sure the finished product works perfectly, every time, all the time. When cleaning is critical, people call MicroCare.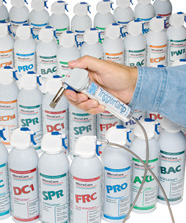 The Products
MicroCare offers a multitude of products for every precision cleaning application. Customers choose from a wide range of flux removers, precision degreasers, solvent dryers, cleaners for fiber optics and photonics, precision lubricants and aerosol cleaners. Featuring the MicroCare® brand of precision cleaners, plus the Bromothane™ solvents from Chemtura and the Vertrel® specialty fluids from DuPont, MicroCare has a breadth of answers unmatched in the industry. MicroCare also features the most comprehensive product stewardship program in the industry, which ensures clients that their cleaning processes are efficient, safe and cost-effective.
There also is a special division of MicroCare focused on the needs of medical device makers. This branch of MicroCare offers a select group of precision cleaners and dry film lubricants tailored the needs of companies making, for example, disposable surgical tools. The dry film lubricants offer exceptional performance and "feel" unavailable from any other source in the industry.
Background and Locations
MicroCare is a privately-owned business based in New Britain, Connecticut, USA, about 150 km northeast of New York City. Established in 1983 with a focus on the electronics industry, today MicroCare serves a wide array of industries, including the electronics industry, medical device manufacturers, aerospace, automotive, security, telecommunications and fiber optics. The company manufactures these products in a modern 40,000 sq. ft. (4,000 s.m.) factory in New Britain, supported by additional warehousing in Brussels. MicroCare is ISO 9001:2008 registered.
Supplier Directory Categories
MicroCare Corporation is listed in these categories: